Three service providers in New Mexico are getting a total of $23 million in USDA ReConnect awards to improve rural broadband in the state.
In all, the projects will provide broadband service to more than 2,200 rural households in 17 counties. The ReConnect program provides grants, loans, and combination grant loans. All the latest awards are in the form of grants.
USDA New Mexico ReConnect Awards
The USDA New Mexico ReConnect awards are:
Pueblo of Acoma is receiving $942,955 for fixed wireless broadband. The service area includes 771 households spread over 22 square miles in Cibola County.
The Penasco Valley Telephone Cooperative will get $3.1 million to deploy a fiber network in a 363 square-mile area of Lincoln, Otera, Chaves and Eddy Counties. The footprint covers 659 households.
The E.N.M.R. Telephone Cooperative will receive $19.2 million to build a FTTP network serving farms, businesses and critical care facilities in rural areas of the state that covers 759 households and three critical care facilities spread over 13 counties and 4,292 square miles.
The initial pilot phase made 73 awards in 32 states and territories totaling $644,473,310.
In March, the president signed the CARES Act, which seeks to mitigate the impact of the COVID-19 pandemic. The act provides an additional $100 million to the ReConnect program. The additional funding will focus on 100% grant applications that were not approved during the first round. New applications must be for the same territory as the initial applications that failed.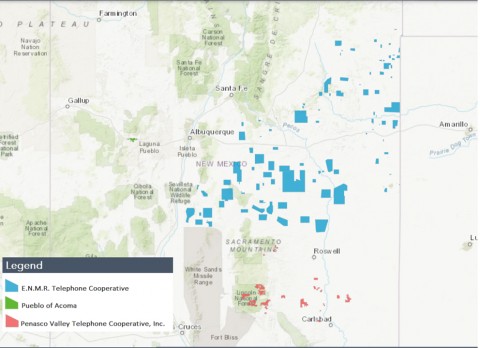 The USDA also extended the deadline for the second phase of the program to April 15 and on April 20th announced it has received 172 applications for $1.57 billion.  This phase will offer $550 million in the form of grants and loans and grant/loan combinations. The USDA will award up to $200 million for grants, as much as $200 million for grant/loan combination and as much as $200 million for low-interest loans.