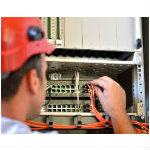 USDA ReConnect awards made this week so far total $14.7 million for broadband deployments in South Carolina, Montana and Nevada. All the awards were in the form of grants.
In Montana, the Southern Montana Telephone Company got a $3.3 million grant to build an FTTH network in Beaverhead County. It will serve a 1,688-square-mile area that includes 109 households, 26 farms and ranches, seven businesses and the Grant Fire Station.
In Nevada, Beehive Telephone Company will get a $2.3 million grant to build a fixed wireless system and three FTTP networks to connect 273 households, seven businesses, seven farms and a critical care facility. The area served is 229 square miles in Elko and White Pine counties, which is in the eastern region of the state. The service area, according to the USDA, includes the Pilot Valley and Montello communities in Elko County, and the Pleasant Valley community and the Burbank exchange in White Pine County.
In South Carolina, a USDA ReConnect award will go to TruVista Communications, which will receive a $9.1 million grant to deploy 257 miles of fiber to unserved areas of Kershaw County. The 81-square-mile area includes 6,251 households, 24 farms, 15 business, four critical community facilities, three educational facilities and a health care center.
The first phase of the program, which is nearing completion, will divide $600 million evenly between grants, loans and combined grants and loans. So far, the USDA says that it has 66 applicants with active awards in 30 states and territories. The amount announced so far is $573,516,969.
The next phase of the ReConnect Program, which aims to bring broadband to additional unserved or underserved rural areas, is heating up as the first phase comes to a close. The USDA began accepting applications for the second phase of the program, which will total $550 million, on January 31.