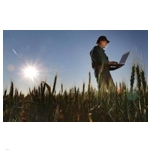 The Internet is becoming increasingly important to U.S. farmers, according to a report issued this week from the U.S. Department of Agriculture. Nearly 70% of farms currently have Internet access – up from 67% in 2013 and from about 57% in 2007, according to the USDA.
The number of farmers that own or lease computers has tracked quite closely with Internet access since 2007, with 71% of farmers now falling into that category, said the USDA in the report titled "Farm Computer Usage and Ownership (August 2015)."
Not all farmers use their computer for farm business. Only forty-three percent of respondents said they do so. But the number is on the rise – climbing from about 35% in 2007 and from 40% in 2013.
Farm Internet Usage
Among those farmers who use their computer for farm business, the most popular use was conducting business with non-agricultural websites, cited by 44% of respondents.
Other popular uses were:
Purchasing agricultural products (19%)
Accessing USDA reports/services other than USDA-NASS reports (17%)
Accessing other federal government websites (17%)
Marketing activities (16%)
Less commonly cited uses were:
Accessing USDA-NASS reports (10%)
Conducting business with any USDA website (9%)
Conducting business with any other federal government website (7%)
The 30-page report contains a wealth of data that farmers – or service providers serving farmers — can use to compare themselves with their peers. Among other things, the USDA breaks down results by income levels, by geographic region and by the type of crop grown.