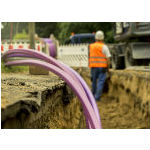 The United States Department of Agriculture granted Big River Broadband $2.9 million to provide broadband service to unserved or underserved areas of Missouri. The funding is part of $100 million in USDA ReConnect CARES funding adopted in the CARES Act passed in March in response to the COVID-19 pandemic.
The provider will use the funding to build an FTTP broadband network connecting 4,839 people, 54 farms, 27 businesses, two public schools and a fire station in Cape Girardeau County.
Eleven providers were eligible for USDA ReConnect CARES funding. Eligible providers needed to have had a disapproved application in the first phase of the program. The new application must be for the same footprint as the denied application. Unlike the initial phase – which was divided between loans, grants and loan/grant combinations – phase two wholly consists of grants. The USDA says more announcements will be made in the coming weeks.
Round 1 of the program was completed in May. In all, the USDA awarded 82 awards in 34 states and territories totaling $744,303,168.
Last month, an award of $3.2 million went to French Broad Electric Membership Corp. as part of the USDA ReConnect CARES Act funding. The company will provide an FTTP network connecting 4,056 people, 189 farms, 64 businesses and two fire stations in Madison County. The USDA also approved a $16 million ReConnect CARES grant to the Tallahatchie Valley Electric Power Association to build an FTTP network in Mississippi that will connect 2,082 people, 331 farms, 32 businesses, a post office and six fire stations.