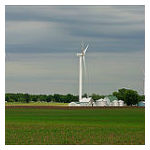 The USDA is accepting applications for rural broadband loans using funding provided through the 2014 Farm Bill.
The minimum loan amount is $100,000 and the maximum is $20 million. Applicants must serve areas where at least 15% of households cannot get broadband service. The USDA said it will process applications with the most unserved households first.
The minimum acceptable broadband service that network operators can build using USDA broadband loans is 4 Mbps downstream and 1 Mbps upstream. But in a press release the USDA notes that it "urges applicants to design systems that allow for 25 megabits downstream and 3 megabits upstream to meet future needs."
The USDA is accepting comments on these changes through September 28 and accepting applications through September 30.
Rural Broadband Loan Challenges
The loan announcement comes just days after Politico penned a highly critical blog post about the USDA's Rural Utilities Service unit, which administers the loan program. While primarily attacking the RUS role in the broadband stimulus program, Politico also argued that the RUS at times has been so risk-averse in making loans that it has only issued loans for a small percentage of the funding available.
Some of the recent sluggishness in rural broadband loans also may relate to a cautious attitude on the part of rural network operators at a time of uncertainty as traditional Universal Service funding sources undergo major reforms.
Image courtesy of flickr user Tom Gill.