UScellular today announced what the company says is the first hybrid public-private wireless service.
The offering targets businesses that want private wireless networks but also want the ability to transition back and forth with public wireless networks, explained David Allen, director of emerging technologies and business development for UScellular, and Nick Davies, vice president of partner strategy for Betacom, which is supplying the technology underlying the offering, in a pre-briefing with Telecompetitor.
Allen and Davies cited examples of where this capability might be useful. A retailer might have a sale in its parking lot and could benefit from being able to take a tablet from the private network inside the store to the parking lot and have it work seamlessly. Or a scanner might track a subcomponent used in a stock keeping unit (SKU) from the point where it is assembled into a finished product, then gets put on a vehicle and moved to another place.
As Allen explained, "the secret sauce is in the SIM provisioning for the device—there is a single SIM for both networks."
He added that "We treat the private network as a peer of ours and allow the device to transition seamlessly between the public and private network."
The offering works even where UScellular doesn't have its own cellular network but instead relies on a roaming agreement.
Betacom's deal with UScellular isn't exclusive, but perhaps surprisingly, Davies doesn't expect to be selling to other major wireless providers any time soon.
"No one else is saying they want to solve this problem; we'd like this, too," said Davies.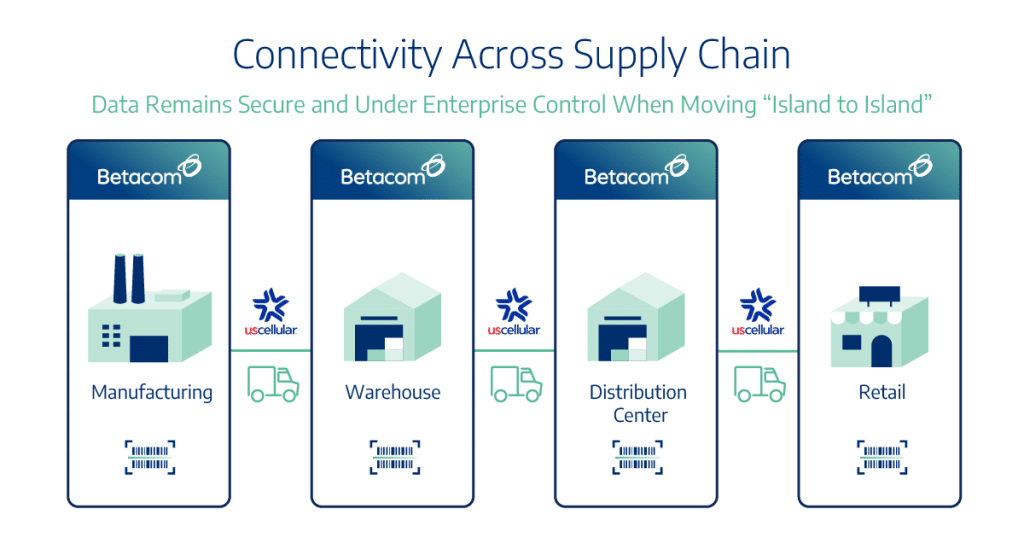 Many companies that operate public cellular networks view private cellular as cannibalizing their existing business, but UScellular has a different take on that, said Allen.
"Rather than trying to slow it down or stymie it, we treat Betacom and any customer network as a peer."
Allen said UScellular has validated the Betacom technology in a laboratory and operator environment.