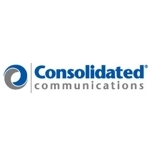 Consolidated Communications has joined the parade of companies offering SD-WAN, software-based network technology that provides a simplified management and automation of WAN connections.
In late February, we reported that more than 85% of companies were considering adopting SD-WAN, according to a new SD-WAN report conducted by Dimensional Research for SD-WAN developer Versa Networks.
An IDC study said the popularity of SD-WAN is due to bandwidth optimization (at 36%), consistent application security (31%), integration with existing WANs (28%) and improved automation and self-provisioning (also 28%), as we reported.
Consolidated's SD-WAN platform is powered by VeloCloud. The platform leverages the flexibility of a hybrid WAN with the simplicity and lower cost structure of cloud based offerings, Consolidated notes.
"SD-WAN is an emerging technology that offers businesses reliability and flexibility in connecting their critical branch operations," said Doug Abolt, Consolidated Communications vice president of commercial product management, in a prepared statement. "The agility of our solution provides businesses a simple and fast means to custom configure their SD-WAN and prioritize their critical traffic and applications. Deployment is also easy as our SD-WAN offering allows for various deployment options, including cloud-based, software-based or a hybrid approach.
Carriers, large and small are embracing the fast growing business and enterprise application. Beyond SD-WAN offerings from large players like AT&T and CenturyLink, a range of service providers have announced an SD-WAN strategy. Windstream has reported a robust SD-WAN business. Vonage and Zayo have recently announced SD-WAN offerings or expansions.
"Consolidated Communications is dedicated to providing our customers an unparalleled experience with advanced solutions that boost business performance," added Abolt. "By pairing SD-WAN with our complementary portfolio of services, including our data networking and business solutions like Security Services, Cloud Services and our sophisticated Business Voice Solutions, we have the expertise to help customers turn technology into solutions that move their business forward.