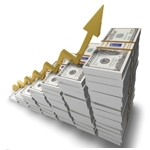 A universal CPE revenue forecast from IHS Markit calls for sales of universal  customer premises equipment, or uCPE, to rise from $7.7 million in 2017 to $1.02 billion in 2022.

uCPE, under the research firm's definition, is a device providing a "pico cloud" that includes compute, storage and switching capacity for executing virtualized network functions (VNFs) such as virtual firewalls, SD-WAN, virtual WAN, virtual application delivery controllers and optimization appliances.
Universal CPE Revenue Forecast
The medium-sized uCPE market will grow the fastest, representing $750 of the $1.02 billion revenue total by 2022, though all markets are expected to grow. The research firm expects uCPE without demarcation functions to comprise the largest share of the market throughout the forecast period — $820 million of $1.02 billion in 2022. uCPE with demarcation includes equipment like Ethernet access devices (EADs), routers and certain software-defined wide area network (SD-WAN) products.
The research firm points out that telco operators across the globe are extending their network functions virtualization (NFV) environments outside the usual data centers and central offices (COs) to customer sites on uCPE.
A single uCPE provides efficiencies because it takes the place of several network appliances and devices by performs software functions such as firewalls, SD-WAN, WAN optimization control, virtual private networks (VPNs), routers, etc.
Universal CPEs provide many benefits to service providers and customers, including the ability to offer and deploy new virtualized appliances only days after their release, rather than waiting months, quarters or years for new hardware.
The market is still in its infancy. IHS Markit estimates that fewer than 600 units of uCPE were shipped in 2016, primarily for lab testing and a small fraction in field trials. Last year wasn't much better as the technology just started to move into the market – less than 7,000 were units shipped.
But 2018 should be the first of many years of accelerated growth, according to the research firm.