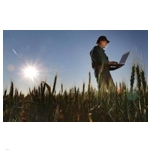 When Alabama-based Farmers Telecommunications Cooperative launched gigabit service earlier this year, the company thought of a unique way to promote and celebrate the accomplishment. The first home to get gigabit service turned up was the same one to which FTC first turned up phone service back in 1955.
The current mayor of Geraldine, Alabama was a boy at that time and lived in the home, which is still in his family, and he gave an address at the launch ceremony, as did FTC General Manager Fred Johnson and a representative from the USDA's Rural Utilities Service. The USDA several years ago awarded FTC a $24 million loan, which covered some of the cost of deploying the fiber-to-the-home infrastructure that underlies FTC's gigabit offering.
Speakers at the launch event highlighted the important impact that high-speed broadband can have on a community, enabling capabilities such as telemedicine and distance learning.
Alabama Gigabit Service
In an interview, FTC Manager of Marketing and Public Relations Brandi Lyles said FTC will offer gigabit service anywhere it has deployed FTTH, which now reaches about 84% of FTC's 15,000-line service area. She said FTC already has signed up nearly 100 customers for gigabit service, even though the company has not yet launched a promotional campaign for the service. She noted that the company will promote the offering more broadly after it takes shipment of new customer premises equipment that combines optical network terminal and media gateway functionality.
For residential customers, FTC charges $20 more for gigabit service than for its 100 Mbps offering. Gigabit service costs $88 as a stand-alone offering residentially. The cost for business customers is in the $300 range.
"For businesses we had to price a bit differently because of the way they use it," said Lyles.
If a customer orders gigabit service, FTC swaps out existing customer premises equipment. Additionally the company deployed redundant 10Gbps fiber rings to provide higher backhaul bandwidth.
Customers can drop back to lower-speed service if they don't feel gigabit service is worth the extra money, Lyles said.
The company already has some satisfied gigabit customers.
Lyles noted that one gigabit customer, who does graphic design, has been particularly pleased with the service because it now takes just seconds to transfer large files that previously required several minutes.