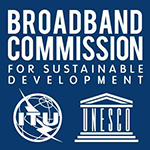 The United Nations' Broadband Commission for Sustainable Development has set seven goals for the half of the world's population – 3.8 billion people — who experts say will not be connected to the Internet by the end of 2019. A key UN Broadband Commission goal is to achieve global broadband penetration of 75% by 2025.
UN Broadband Commission Goals
The commission set a 2025 deadline for its broadband goals, which were announced at a joint meeting of the Commission and the World Economic Forum that was held during the World Economic Forum in Davos.
Identified goals include:
By 2025, all countries should have a funded national broadband plan or strategy, or include broadband in their universal access and services definition.
By 2025, entry-level broadband services should be made affordable in developing countries, at less than 2% of monthly gross national income per capita.
By 2025 broadband / Internet user penetration should reach: 75% worldwide, 65% in developing countries, and 35% in least developed countries.
By 2025, 60% of youth and adults should have achieved at least a minimum level of proficiency in sustainable digital skills.
By 2025, 40% of the world's population should be using digital financial services.
By 2025, unconnectedness of Micro-, Small- and Medium-sized Enterprises should be reduced by 50%, by sector.
By 2025, gender equality should be achieved across all targets.
The commission is co-chaired by President Paul Kagame of Rwanda and Carlos Slim Helú of the Carlos Slim Foundation. A goal of the commission is to promote broadband as a key goal in the international policy agenda. It advocates private-public partnerships and other strategies to achieve these goals.