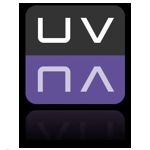 Aiming to "create a viable, global digital marketplace" based on "open, licensable specifications," the Digital Entertainment Content Ecosystem (DECE) yesterday launched its UltraViolet brand and logo.
A broad-based consortium with membership approaching 60, the DECE group is busy designing the specifications for a name brand group of standardized products and services that will enable consumers to search for, purchase and "watch their digital entertainment across multiple platforms, such as connected TVs, PCs, game consoles, smartphones and tablet PCs in an easy, consistent way," according to a news release.
"Our goal is to firmly establish UltraViolet as the symbol for digital entertainment – one that gives consumers the freedom of access wherever they are, the confidence of knowing how it will work and the broadest choice of content, stores and devices," commented Mitch Singer, DECE president and Sony Pictures' CTO.
Those interested will be be able to sign up for a free, "cloud-based UltraViolet Account, which will include a Digital Rights Locker and account management functionality" at participating Ultraviolet member shops or through the UltraViolet website. Consumers will be able to access and play content anywhere from any device they choose, it is explained, doing away with the at times frustrating experience of it being restricted by location or device type.
The DECE is currently made up of Adobe, Alcatel-Lucent, Ascent Media Group, Best Buy, Blueprint Digital, BT, CableLabs, Catch Media, Cineplex Entertainment, Cisco, Comcast, Cox Communications, CSG Systems' Content Direct, Deluxe Digital, DivX, Dolby Laboratories, DTS, ExtendMedia, Fox Entertainment Group, HP, Huawei, IBM, Intel, Irdeto, LG Electronics, Liberty Global, Lionsgate, LOVEFiLM, Marvell Semiconductor, Inc., Microsoft, MOD Systems, Motorola, Movie Labs, Nagravision, NBC Universal, NDS, Netflix, Neustar, Nokia, Panasonic, Paramount Pictures, Philips, Red Bee Media, RIAA, Rovi, Roxio CinemaNow, Samsung Electronics, Secure Path, Sony, SwitchNAP, Tesco, Thomson, Toshiba, Verimatrix, VeriSign, Warner Bros. Entertainment, Widevine Technologies Inc. and Zoran.
Noticeably absent from this consortium are two of the biggest players in digital media today – Apple and Disney.