The U.S. leads the European Union (EU) in broadband availability and adoption, according to a new U.S. vs. Europe broadband report from USTelecom-The Broadband Association. The U.S. market also is more competitive and, on average, U.S. carriers invest more in their networks, the report claims.
According to USTelecom, the report "debunks a persistent myth that the EU's more intensive framework for broadband regulation has yielded a superior online experience for consumers and ought to be replicated in the United States." The U.S. is particularly ahead on rural broadband availability, USTelecom said.
Key Findings
Key findings of the U.S. vs. Europe broadband report:
As of 2019, almost all Americans (99%) can get some form of broadband, including 97% in rural areas. But while 97% of Europeans overall could get broadband in 2019, only 90% in rural areas could do so.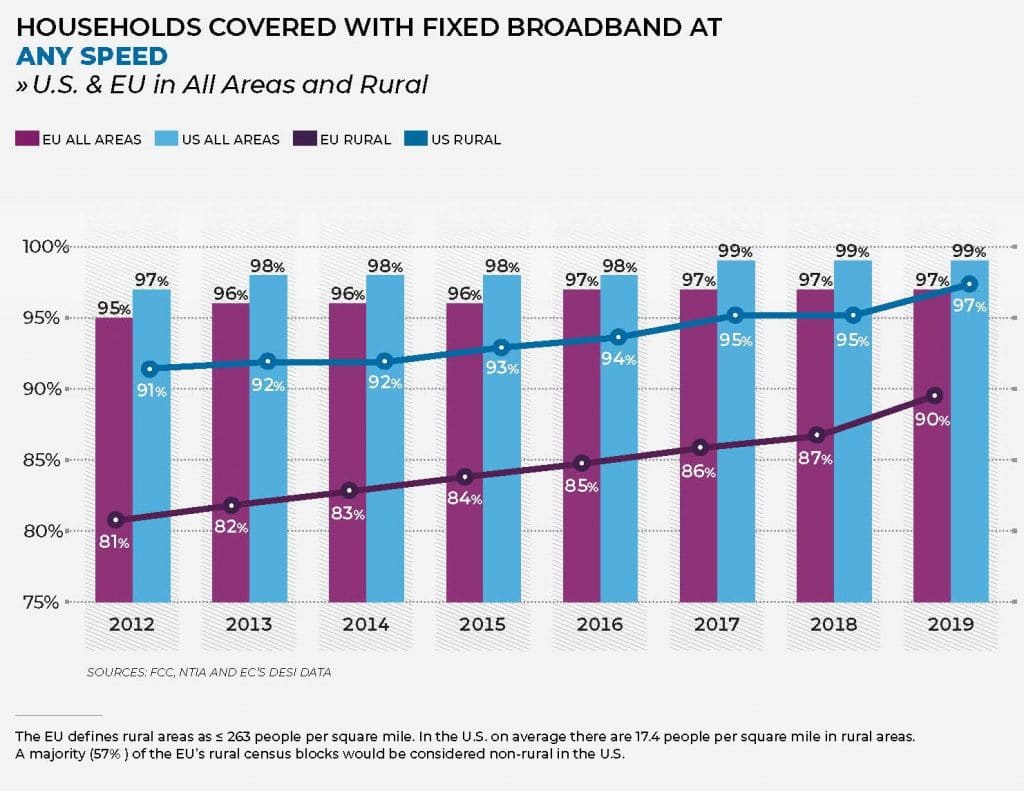 The U.S. led the EU by 25 percentage points in availability of 100 Mbps service (92% vs. 67%) as of 2019.
About 85% of Americans subscribed to some form of broadband as of 2018, compared to just over 75% of EU residents.
Americans also have adopted faster speed services more broadly. Over 45% of U.S. consumers subscribed to service at speeds of 100 Mbps or above as of 2018, compared to about 25% of EU consumers.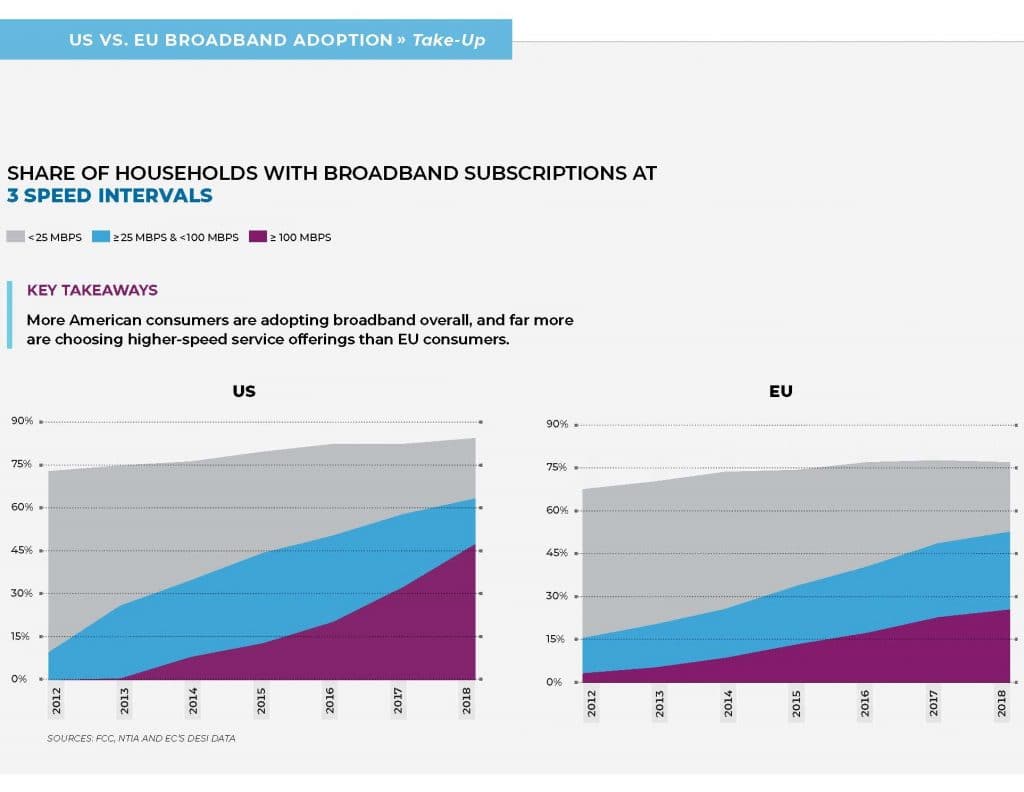 Americans also are more likely to have a choice of broadband providers than their European counterparts. In the U.S. overall, 94% of areas had two or more competing facilities-based broadband providers (including fixed wireless but not mobile carriers) as of 2019. In rural areas, the percentage was 78%. In the EU overall, 46% of areas had two or more competing facilities-based broadband providers as of 2019. In rural areas, that percentage was 11%.
The USTelecom U.S. vs. EU broadband report attributes the U.S. broadband edge to increased investment on the part of broadband providers, who invested an average of $708 per household annually between 2012 and 2018, compared with $230 per household in the EU.
It's worth noting that there are more than 20 countries in the EU, and that other researchers that have broken out broadband data by individual country have found some individual EU countries to have a broadband edge over the U.S.
Last year, for example, the Organization for Economic Cooperation and Development (OECD) found nine countries ahead of the U.S. in the percentage of residents connected by fiber broadband. Among those were five EU countries – Lithuania, Sweden, Latvia, Spain and Finland.