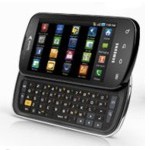 U.S. mobile subscribers are increasingly opting for smartphones over standard feature cell phones. Twenty-eight percent of U.S. subscribers had smartphones as of Q3's end, according to The Nielsen Company, with new product introductions from Apple, RIM and handset manufacturers making use of Google's Android operating system driving greater uptake.
The smartphone adoption rate has accelerated in the last six months with 41% of subscribers choosing a smartphone over a standard feature phone, six percentage points higher than the 35% who did so in Q3 '09, according Nielsen Mobile Insights. The higher adoption rate puts the US "on a par with the U.K….but well behind Spain which boasted a smartphone penetration rate of 37 percent last quarter, and Italy, which had a smartphone penetration rate of 33 percent last quarter," according to Nielsen.
In terms of operating system market share, Apple's iOS, with 28%, wound up two percentage points behind US smartphone market leader RIM's BlackBerry for the year. Google's Android OS continues to gain market share. Android-based smartphones had a 19% share of the market as of end Q3 but has led the pack during the last six months.
A definite age skew is developing in the market. Android-based phones are more popular with those under 35. Apple's iOS has the most smartphone users under 44 and RIM's BlackBerry has the most users 45 and over.
Smartphones appear to be attracting a broader user base as well. One in five smartphone owners are Hispanic, according to Nielsen, as compared to the 9% who own standard feature phones.