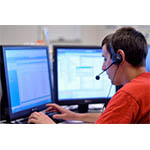 U.S. IT job growth is 43,900 as of mid-year 2016. according to an estimate from CompTIA based on an analysis of Bureau of Labor Statistics (BLS) data.
June's net IT sector job creation more than offset a May decline, according to a press release. Telecom companies added the most net new jobs (28,100) among industry sectors last month. Most of that gain was due to the return to work of striking Verizon workers.
IT Job Growth by Sector
Job creation in the IT sector is growing faster than the national average for the economy overall. It's estimated that 4.39 million people held jobs in the IT sector as of end June.
With the exception of tech manufacturing, all categories of IT sector businesses posted gains in June. That included search portal companies such as Google, which added a net 2,500 jobs for the month, and companies that provide data processing, hosting and related services, which added a net 2,200 jobs. IT software and services and computer systems design companies added a net 1,400 jobs.
In contrast, computer and electronic products manufacturers shed a net 2,100 jobs in June.
Overall, IT services companies accounted for 9 in 10 new jobs created in the IT sector in 2016's first half, according to CompTIA's IT job growth data.
Image courtesy of flickr user tyle_r.