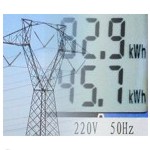 Two million smart grid meters have been installed across the U.S., thanks in no small part to the $3+ billion of American Recovery and Reinvestment Act funding allocated to smart grid development and deployment.  More than 180,000 have been installed in Ohio, Secretary of Energy Steven Chu announced at an event at the Battelle Memorial Institute in Columbus today.
"As a result of an unprecedented investment from the Recovery Act, smart meters are being installed in Ohio and across the country to create a more reliable, modern electrical grid and give consumers the ability to monitor and control their energy use," Secretary Chu noted. "Smart Grid technologies will give consumers choice and promote energy savings, increase energy efficiency, and foster the growth of renewable energy resources."
Implementing smart grid technology could reduce electricity usage by more than 4% per annum by 2030, equivalent to savings of $20.4 billion for businesses and consumers each year and more than $700 million in Ohio alone, according to an estimate from research carried out by the Electric Power Research Institute.
The Battelle Institute is working with American Electric Power on the Ohio gridSMART demonstration project, the aim of which is "to upgrade the electric grid in northeast central Ohio."