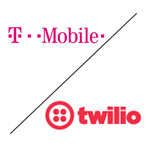 Twilio has created a developers' platform for T-Mobile's Narrowband IoT (NB-IoT) network. The Twilio, T-Mobile  announcement was made at Twilio's customer and developers' conference.
The goal is to develop applications for NB-IoT, which are aimed at using less battery power and thus lowering costs. They are built for small data packets such as timestamps, GPS and status updates for health devices and similar equipment, according to T-Mobile.
"The introduction of T-Mobile's Narrowband IoT network provides a tremendous opportunity for developers who are innovating and building new categories of devices that don't exist today," Chetan Chaudhary, the general manager and vice president of IoT at Twilio, said in a press release.
Twilio Narrowband Developer Platform is comprised of three components:
Narrowband SIMs: Instant self-service onboarding, no contracts required and two-day shipping in the U.S.
Twilio Narrowband IoT Developer Kit: A limited supply developer kit including an Arduino-based development board and Grove sensors specifically chosen for innovative low-powered wide-area solutions. The kit also features the u-blox LTE Cat NB1 SARA-N410 hardware module, certified for the T-Mobile Narrowband network.
Twilio Breakout SDK: Twilio Breakout SDK, reduces the complexity of hardware and heterogeneity of different networks. The Breakout SDK handles tasks such as network registration and intelligently optimizes communication between devices and cloud services. based on the network capability requirements across IP, Non-IP and SMS.
Twilio, T-Mobile collaboration dates back to 2016. Beta access to Twilio's Narrowband Developer Platform will be available early next year. The developer plan will cost $2 per month, the production annual plan will sell for $10 per year (or $5 per year at scale) and the production five-year plan will cost $8 per year ($4 per year at scale).
T-Mobile launched its NB-IoT service in July. The carrier claimed it was the first to launch in the U.S. and the first to operate in the guard bands.