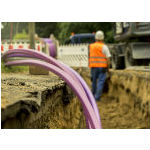 The FCC now has authorized more than half of the $1.488 billion in rural broadband funding associated with winning bids in the Connect America Fund (CAF) Phase II auction. The tally of CAF-II funding authorized crossed that tipping point today when the commission released its third list of authorized winners, who will share more than $524 million in auction winnings.
The funding in that announcement will bring broadband to more than 700,000 unserved or underserved rural locations in 23 states, the FCC said.
Also today, the FCC authorized $39.2 million in rural broadband funding for 15,442 unserved or underserved locations in rural New York, which was awarded through the New NY Broadband Program. Those awards were made by the state of New York, which contributed additional funding of its own.
The FCC allowed the state to award the portion of Connect America Fund money intended for New York because the New NY Broadband Program was well underway before the CAF-II auction parameters had been established. New York was the only state handled in that manner. CAF funding for all other states was awarded through the FCC-run CAF-II auction.
Verizon was among five entities authorized to receive funding for New York today.
The FCC authorizes funding winners after their applications have been approved and they have received letters of credit meeting the commission's requirements.
CAF Funding Authorized
An FCC press release highlights several of the biggest CAF auction winners outside the state of New York that were authorized today, including the amount of funding they will receive over the next 10 years:
AMG Technology Investment Group will receive $281.3 million for nearly 100,700 locations in rural Illinois, Iowa, Kansas, Nebraska, Oklahoma and Texas. Two thirds of the locations will get service at speeds of 100 Mbps downstream and 20 Mbps upstream, with the remainder receiving 25/3 Mbps service
Crystal Automation Systems will receive $27.2 million to bring 100/20 Mbps service to 17,610 locations in rural Michigan
RiverStreet Communications will receive $32.1 million to bring gigabit service to 13,518 locations in Virginia
California Internet LP will receive $87.8 million to deploy 100/20 Mbps service to 11,845 locations in California and Nevada
Bidders in the CAF-II auction committed to delivering service at one of several different speed tiers, and a weighting system offered an advantage to bidders offering to deploy service at higher speeds and with lower latency.
A complete list of entities newly authorized to receive funding outside New York can be found in this press release.
New York Authorizations
A separate FCC press release highlighted the five entities that were newly authorized to receive funding for deployments in New York. That auction didn't have the weighting system that the FCC used, but instead requires winners to deploy service at speeds of at least 100/20 Mbps:
GTEL Teleconnections will receive $854,652 for 260 locations
MTEL Cable will receive $4.27 million for 1,659 rural homes
Otsego Electric Cooperative will receive nearly $4.3 million to deploy service to 1,146 locations
SLIC Network Solutions will receive nearly $11.3 million for 4,610 locations
Verizon will receive over $18.5 million for 7,767 locations
The FCC previously announced CAF-II funding authorizations in May and June.
This post title has been updated to include an additional state impacted by the release in funds. The original title referenced 23 states, when the actual number is 24.