Streaming is back—at least from the production standpoint. The trend is that streaming services are generating a lot more content.
Omdia's Digital Content & Channels Intelligence Service found that after the COVID-19 pandemic played havoc with production during 2021, eight major streamers released 1,752 titles comprised of 4,878 hours of first-run original content in 2022. That, Omdia said, was a year-on-year increase of 60% in titles and 87% in hours.
"The increase in original production is mainly driven by two factors: new productions delayed by the COVID pandemic finally arriving online, and the continuing international rollout of studio-backed D2C services such as Disney+, HBO Max, and Paramount+," Omdia Senior Principal Analyst Tim Westcott said in a press release about the streaming service trend.
The report looked at Netflix, Amazon, Apple TV+, Disney+, HBO Max, Hulu, Paramount+, and Peacock. It found that Netflix released the most content in 2022, including 935 titles and 3,531 hours of programming. More than half of the programming came from outside the United States. The titles – which were not necessarily produced in 2022 – were worth $5.8 billion last year. Forty-two percent of the total was invested outside North America, with $1.1 billion invested in Europe and $1 billion in Asia and Oceania.
For the third consecutive year, Amazon released more non-U.S. than U.S. titles on Prime Video. In total, it released 203 titles and 764 hours of original first-run programming, the company's highest totals ever.
Other providers released 614 titles in 2022, a year-on-year increase of 44%. A majority was from the U.S. Discovery and HBO Max produced more than 30% of the 614 titles. Disney+ produced 19%, according to Omdia. Westcott said that it remains to be seen if the same level of growth will be achieved in 2023. He said that both Discovery and Disney face shareholder pressure to reduce expenditures and "stem the losses of their strategic move into streaming."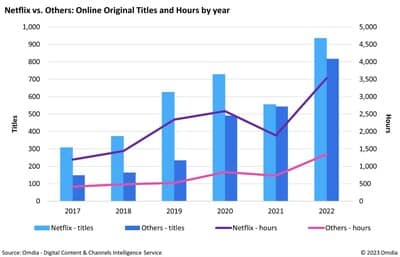 The pandemic may have interrupted streaming production and release, but it was a boon to consumer interest in the delivery mechanism. In January, 2021, the Future of TV survey by The Trade Desk looked at the impact of the pandemic on cord cutting. It found that 27% of U.S. cable subscribers planned to cut their subscriptions by the that year. The two reasons cited were job cuts and the introduction of new streaming services.