Toyota is showcasing a concept car at this year's North American International Auto Show (NAIAS) that incorporates flat-panel antenna-based satellite broadband connectivity. The concept car showcases in-vehicle satellite broadband connectivity, developed by U.S.-based Kymeta.
Kymeta's flat-panel satellite broadband antenna employs liquid LCD technology and sophisticated software to track and direct satellite signals, thereby doing away with the need for a satellite dish.
"For several years, Toyota met with emerging companies around the world to investigate new technologies," Toyota Motor Corp. senior managing director Shigeki Tomoyama commented. "We were very excited to learn about Kymeta, because their flat antennae technology could solve the challenge of vehicle-based satellite communications."
In-Vehicle Satellite Broadband
Toyota is testing the in-vehicle satellite broadband technology, delivered via high-capacity satellites. Easing the path forward, Kymeta's flat-panel satellite antennas are lightweight and can be integrated into vehicle assembly in a straightforward manner, according to the manufacturer.
Doing so would raise the bar for the emerging connected car segment, a nascent but fast emerging market that's viewed as having huge growth potential. That has attracted the likes of AT&T and Verizon, as well as industry peers worldwide.
AT&T and Ford, for example, intend to connect more than 10 million U.S. customers to Ford SYNC Connect service over the next five years. SYNC is an in-vehicle entertainment and connected car service that utilizes 4G LTE wireless broadband for connectivity.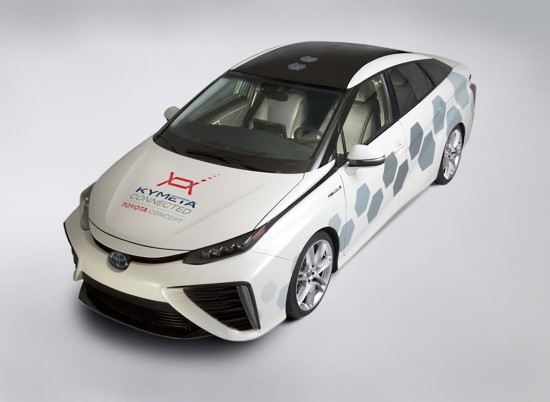 Toyota could bypass major wireless carriers by leveraging a global satellite broadband network and launching in-vehicle satellite broadband connected services based on Kymeta's satellite antennas.
Toyota highlights what it considers to be three big advantages that satellite broadband affords in-vehicle connectivity:
The distribution of huge amounts of data to a vehicle,
Broad coverage areas and the global deployment of connected vehicles that share common standards across national borders, and
More stable and secure communications, particularly in emergencies such as natural disasters.
"We're excited to be working with Toyota on this next generation of vehicle connectivity," Kymeta CEO Dr. Nathan Kundtz was quoted as saying. "Kymeta is the first company to successfully demonstrate this type of technology, and we have over 8,000 miles of road testing with cars connected to satellites."
Toyota has exclusive development and testing rights to Kymeta's on-car satellite antenna. The auto manufacturer and Kymeta have been researching and developing on-car flat antenna satellite technology to support broadband in-vehicle data distribution since 2013.
Toyota invested $5 million in Kymeta this month and has lent the startup vehicles for research and testing, including the concept car on display at NAIAS in Detroit.