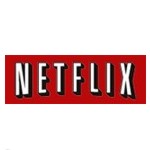 In its recent report to shareholders, Netflix revealed total Netflix download traffic equates to 37% of peak Internet download traffic,  exceeding all other major Internet video sources combined, by a longshot. The data was provided to Netflix by Sandvine.
Netflix says it streamed a total of 42.5 billion hours of video in 2015, up from 29 billion hours in 2014. They now claim 74.8 million subscribers worldwide, with close to 45 million in the U.S. market.
"Given the broad array of options, we are privileged that our members around the world continue to devote more time to Netflix," boasts Netflix in their report to shareholders.
Total Netflix Download Traffic
According to the Sandvine data, YouTube came in a very distant second place for peak download traffic at 18%. Amazon Video, Hulu, iTunes, and Facebook all registered at 3%.
Combined, these Internet video sources totaled 30%, compared to total Netflix download traffic of 37%. Total OTT video share of peak download Internet traffic is 61%, says Sandvine.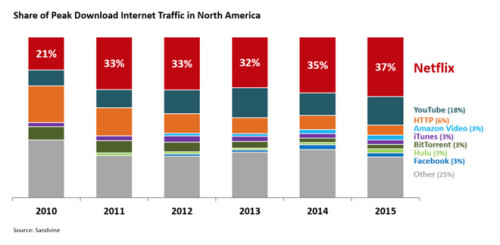 Netflix is prepping the industry for lower peak download traffic in the future, but not because they feel customers will be watching less Netflix. Rather, the company is instituting a new encoding scheme, which it calls complexity based encoding. The new scheme encodes at a lower bit rate which should result in bandwidth savings that in aggregate should lower total Netflix download traffic share in the future.