The density of both mobile and fixed-line broadband subscriptions continues to grow in the 35 Organisation for Economic Co-operation and Development (OECD) countries, according to the organization. Total mobile broadband subscriptions now exceed 100 percent in the U.S. and many other countries
The Paris-based OECD is an economic focused UN of sorts, but only representing 35 countries across the globe. Its mission is to promote policies that will improve the economic and social well-being of people around the world. As of December 2016, OECD said that there were 99 mobile broadband subscriptions per 100 inhabitants in its footprint. That was an increase from the previous December, when there were 91 mobile broadband subscriptions per 100 inhabitants, according to a press release.
OECD data reveals that 113 million mobile subscriptions were added, bringing the total number of mobile broadband subscriptions to 1.275 billion in the OECD footprint, which has a population of 1.284 billion. The increase during the year was 9.8 percent.
Several OECD nations, 11 to be precise, now lie above the 100 percent penetration level. They are, in descending order of penetration, Japan, Finland, Australia, the United States, Denmark, Sweden, Estonia, Korea, Iceland, New Zealand and Ireland. The countries with the fastest growing rates – between 12 percent and 22 percent – are Poland, Slovenia, Chile, Portugal, Turkey and Mexico.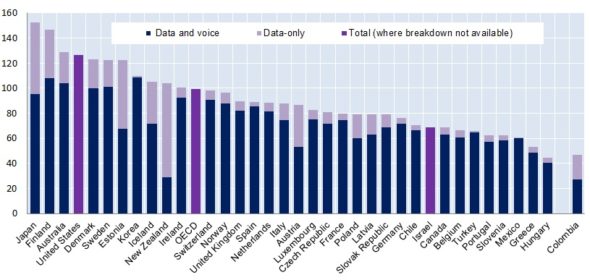 Fixed Line Broadband
Fixed line penetration also increased. OECD reports that subscriptions reached 387 million last December, an increase of 15 million over December 2015. The penetration percentage rose from 29.2 percent to 30.1 percent. The top five nations in terms of penetration by OECD's count include Switzerland (50.1 percent), Denmark (42.4 percent), the Netherlands (41.9 percent), France (41.4 percent) and Norway (40.5 percent).
The four countries with the highest year-on-year growth are Turkey (9.3 percent), Mexico (9.2 percent), Portugal (7.6 percent) and Australia (7.5 percent). Forty-three percent of subscribers gained access via digital subscriber line technology. Cable was second at 32.7 percent and fiber – which gained 15 percent — was third at 21.2 percent.
The steady increases in both wireless and wireline broadband subscriptions have a variety of drivers. In general, technology is getting less expensive and broadband is seen by citizens, businesses and government as more of a necessity than a luxury.
Penetration on the mobile side is particularly noteworthy. Wireless is the primary – and in some cases only – broadband access approach by an increasing percentage of people. This is true in both developed areas where mobile is cheap and efficient enough to make it a potential wireline replacement service. In developing economies wired infrastructure doesn't exist and, since wireless has become so fast and effective, wireline may simply be skipped. The emergence of the Android operating system gives vendors a powerful and low-cost platform with which to address citizens of countries with developing economies.
Image courtesy of flickr user Stefano Brivio.