Independent cable operators met this week in Boston at NCTC's annual The Independent Show (TIS), and a growing sense of urgency was on display. That urgency involves correctly positioning a small cable company in a fast changing market, where the historical core service of video delivery is in flux. Both the technology and business rules are conspiring together to fundamentally change the video business, and smaller providers may be more vulnerable because they lack the scale and financial horsepower to recover if they get this transition wrong.
A few things are clear. The distribution model for video is irrevocably changing, with IP delivery becoming the preferred method. That comes in the form of OTT, but also managed IP video delivery (think Comcast Stream or EZVideo), and traditional cable companies are scrambling to figure out how (or whether) to find their place. Add to that, rising programming costs that contribute to an "unsustainable" business model, causing some smaller cable companies to question whether to even continue offering video at all.
Lucky for them, most also have a broadband pipe into the home, and a good one. The mission now is to best determine how to leverage that broadband pipe for a long term business, and where video fits in this new broadband focused equation.
A Path to OTT
I walked away from TIS with a new found appreciation for the role of OTT in the traditional video business. The question is now not if, but how? How do smaller independent carriers integrate OTT into their offer? The proverbial writing is on the wall. Consumers want it and programmers are responding.
"Programmers have switched sides," commented Wall Street analyst firm MoffetNathanson founder Craig Moffet when addressing TIS. They are not only embracing OTT distribution, but are now actively enabling it, said Moffet. That's an important shift, worth noting. Programmers used to actively defend the traditional MVPD model. Many are now hedging their bets against it, and many more will. And with programmers now enabling OTT, traditional video distributors like cable and IPTV providers have to respond.
Response for most does not mean abandoning the traditional pay-TV model. It's more of a measured response for now. For many, it involves finding a way to integrate OTT content on STB platforms, as Atlantic Broadband (and many others) are doing.
"Our goal is to provide customers choice," commented Atlantic Broadband president David Isenberg on the 'OTT and TVE: Your New BFFs' panel. "And we want them to exercise that choice on our platform."
Atlantic Broadband was an early adopter of integrating Netflix into a TiVo platform, basically creating a Netflix channel for their subscribers. It's a strategy that Isenberg shared interesting insight on with Telecompetitor last year.
This shift is not lost on NCTC, who is the largest aggregator of video programming for small independent cable and IPTV providers. Hulu was present at the show and represented on the same panel as Isenberg. Hulu and NCTC are currently negotiating a distribution deal that will allow NCTC members to integrate a Hulu channel into their offering, said Hulu director for distribution and strategic partnerships James Galley. They've already struck a few of these deals with cable operators, including Cablevision.
To Be, Or Not to Be (a traditional video provider)
Other traditional pay-TV operators are openly questioning the importance of continuing to offer video. The aforementioned shifts in technology and business rules make the business very unattractive for some. Why not just offer broadband?
Interesting partnerships are emerging that may just facilitate that. It was very interesting to me to see Sony at TIS. They were there demonstrating their PlayStation Vue video service. It's an OTT video service with two components. A traditional pay-TV replacement video product which currently offers up to 80+ channels of video for $70/month (with a very impressive user interface). And a budding OTT 'a la carte' offer, that currently only features Showtime, but with plans to offer additional channels which can be purchased individually.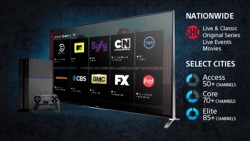 Sony representatives were openly pitching partnership opportunities with independent cable providers. I'm not privy to the business details, but the concept has small cable and broadband providers offering the Sony PlayStation Vue product to their end customers. It appears to be a distribution deal, where the cable company could leverage the PlayStation Vue product as a video offer that helps them also upsell higher broadband tiers.
It reminded me somewhat of the satellite DBS partnerships that many independent telcos struck in the early days to offer video. Could a similar structure be put in place with Sony (and others) to offer an OTT video product that enables a small cable company to get out of the traditional video business, focus on broadband, and still have a video product? Conceivably, that would allow them to continue to offer double and triple play bundles, without the hassle of operating their own video system. As always, the devil is in the details.
Is This Really About Control?
One widely accepted assumption regarding the rise of OTT focuses on choice. That is, consumers are adopting OTT because it gives them choice and is as close to 'a la carte' programming options as they can get. They don't want to be forced to buy bundles of channels they don't want. Rather, they can buy the shows and movies they want with OTT options like Netflix and Hulu.
John Lansing, CEO of CTAM offered some contrarian views to this debate on the 'OTT and TVE: Your New BFFs' panel.
"Consumers want control, they want control of choice and price, not necessarily a la carte," said Lansing. He advocated that cable operators should find ways to provide a perception to their customers that they have more control over the choices and prices available to them. If done properly, they will be less apt to cut the cord in favor of OTT alone, he suggested.
Lots to think about, yet little time to execute. These shifts are accelerating and smaller independent video providers don't have the luxury of making many mistakes. The stakes are high and the mistakes expensive.