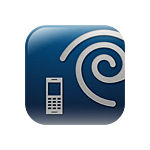 Time Warner Cable today launched what could be a service provider's best shot at stemming ongoing landline phone service erosion. But it's only an option for services providers who, like TWC, have converted their voice lines to VoIP.
TWC calls the new offering Phone 2 Go, and it's a free smartphone or tablet app designed to enable TWC home phone customers to place calls from their smartphone over a WiFi or mobile data connection using their home phone service. That means domestic calls placed with the customer's smartphone or tablet are included in the customer's unlimited monthly landline service. And although mobile data usage would count against the customer's monthly allotment, voice calls don't use a lot of bandwidth.
"To make calls, the user dials through the Phone 2 Go application's own dial-pad which looks very similar to the regular phone dial-pad and works in exactly the same way," a TWC spokesperson explained.
Additionally users can receive phone calls forwarded from their home phones on their wireless devices. And they can send and receive text messages and do video calling using the app.
How Big a Deal is Phone 2 Go?
The upshot is that customers seeking to minimize their monthly communications costs could consider canceling their wireless voice service instead of their landline voice service. Some wireless carriers offer data-only plans for tablets at least. And considering how competitive the wireless market has become — and with carriers encouraging customers to buy or bring their own
devices — I'm thinking there could soon be a data-only smartphone plan if there isn't one already.
Could apps like Phone 2 Go convert wireless migration into wireline migration? Probably not on a broad scale, considering that many telcos have yet to convert to VoIP. But this would appear to be a great way for TWC to shore up its landline voice business and to tap into the wireless migration trend without requiring customers to actually migrate and without having a wireless network of its own.
I would expect to see other VoIP-based voice service providers following TWC's lead in offering an app similar to Phone 2 Go. And depending how successful those offerings are, this might even cause traditional telcos — particularly those without a wireless business — to raise the priority level on those TDM-to-IP conversion plans that have been sitting on the back burner for quite some time now.