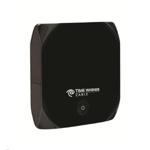 Time Warner Cable  introduced IntelliGo, a dual mode 3G/4G mobile hotspot device. Available on the Time Warner Cable 4G network, Road Runner Mobile, IntelliGo enables simultaneous mobile Internet connectivity for up to five Wi-Fi devices via Time Warner's 4G Mobile Network or Sprint's nationwide 3G network. Pricing and other terms of service were not disclosed.
"With IntelliGo from Time Warner Cable and Sierra Wireless, it's easy to keep all your devices connected, even on the go – cameras, media players, gaming devices, notebooks, and tablet computers can update and be updated in real time. We're thrilled to be able to collaborate with Time Warner Cable in bringing IntelliGo to Road Runner Mobile customers." Mike O'Brien, vice president of Network Operator Sales for Sierra Wireless, said in a news release.
Time Warner Cable's 4G Network is up and running in Austin, Dallas and San Antonio; Charlotte, Greensboro and Raleigh, NC; Honolulu and Maui, and Kansas City, Missouri with rollouts in Boston, Cincinnati, Cleveland, Los Angeles, New York, San Francisco and Washington D.C. planned for this year. The MSO is among the founding group of telecoms, cable and high-tech corporations that have bankrolled Clearwire and its WiMAX-based mobile broadband network.
The launch of Intelligo presents  some interesting scenarios for cable's foray into mobile broadband. Now that the mobile hotspot device has been launched, how soon before WiMAX enabled handsets like the HTC Evo are offered by cable companies, providing a more attractive competing mobility service to traditional mobile wireless carriers?