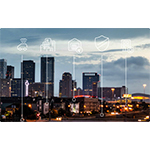 AT&T's Smart Cities Framework is taking shape. Having formed alliances with Cisco, Deloitte, Ericsson, GE, IBM and Qualcomm to help build connected cities, AT&T intends to showcase its potential in several ¨spotlight¨ cities and universities, including Atlanta, the Georgia Institute of Technology, Chicago and Dallas, according to a press release.
"Improving sustainability and increasing public safety are already top priorities for the City of Atlanta,¨ Mayor Kasim Reed commented. ¨With the integration of AT&T's Smart City solutions, we will be better positioned to support these initiatives while also enriching the lives of our residents."
Internet of Things (IoT) technology features prominently in AT&T's Smart Cities Framework. Networked wireless sensors are already helping Chicago better manage its water resources, while back-end analytics are helping boost energy efficiency efforts, Chicago CIO Brenna Berman pointed out.
"We are excited to team with AT&T, a leader in Internet of Things solutions, to help us harness the power of near real-time information to create a safer, cleaner and more efficient city," said Berman.
AT&T Smart Cities Framework
The IoT technology underlying AT&T's Smart Cities Framework is connecting utility meters and street lights, as well as water infrastructure. New applications include transportation infrastructure, and public buildings and parks. Able to gather and deliver data in real-time, maintenance crews are able to improve public safety by identifying slick roadways and detect bridges in need of repair.
Providing citizens with useful, up to date information is another significant benefit, AT&T notes. Mobile apps keep drivers informed of traffic conditions, notify them in advance if a traffic light isn't working, and enable drivers to view parking meters and reserve parking spaces.
In addition to its own smart cities initiative, AT&T has joined Envision America, a similarly minded smart cities program from Envision Charlotte. The carrier also has published a market research report on its website in which it explains IoT opportunities for businesses.