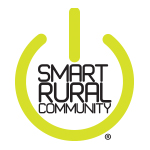 NTCA-The Rural Broadband Association announced thirteen rural communities have been designated as Smart Rural Communities during their Fall Conference, taking place in Philadelphia this week. The NTCA  Smart Rural Communities program was launched back in 2013.
The program aims to recognize and designate rural communities as also participating in the broader smart city movement. Eligible rural communities for the program must be served by NTCA members, where broadband helps communities leverage and foster innovative economic development, education, health care, government services, public safety and other vital public functions.
The following broadband providers and their respective communities received the recognition:
CL Tel (Clear Lake, Iowa)
Dakota Central (Carrington, N.D.)
GBT (Rush Center, Kan.)
GVTC Communications (New Braunfels, Texas)
Hartelco (Hartington, Neb.)
Marquette-Adams Telephone Cooperative, Inc. (Oxford, Wis.)
Mosaic Telecom (Cameron, Wis.)
Panhandle Telephone Cooperative, Inc. (Guymon, Okla.)
Quadro Communications Co-operative, Inc. (Kirkton, Ont., Canada)
Red River Communications (Abercrombie, N.D.)
Totelcom (DeLeon, Texas)
Webster-Calhoun Cooperative Telephone Association (Gowrie, Iowa)
West Carolina Tel (Abbeville, S.C.)
NTCA's SRC program also offers grants for innovative technology deployments in the Collaboration Challenge program and provides educational resources and programming.
These new designees will join the 56 existing smart rural community members and help formulate best practices and assist other rural communities in the implementation of innovative broadband-enabled solutions to drive economic and community strength in rural areas throughout the nation, according to NTCA.