Which cliché applies to free VoIP services? "There are no free lunches," or "the best things in life are free?" Like most things, your perspective will define the answer. Some argue there are a number of costs for free VoIP services available from the likes of Skype, Bobsled, or Jahjah, among many others. Those costs include an acceptance of lower quality voice service, higher USF contribution factors as the pool of minutes gets smaller and smaller from the shift to free VoIP, and more unrealistic expectations for "free" services. Recently Skype has upped the ante for free VoIP though.
Skype just announced in-call ads, or Conversation Ads in Skype as they call it. The new advertising will show display ads in the Skype interface for the free calling services. The ads will not appear for the company's premium services that have a cost associated with them. So there is a tangible cost for free Skype VoIP now, in the form of advertising messages during your Skype call.
Skype's marketing spin on this is quite interesting. "While on a 1:1 audio call, users will see content that could spark additional topics of conversation that are relevant to Skype users and highlight unique and local brand experiences. So, you should think of Conversation Ads as a way for Skype to generate fun interactivity between your circle of friends and family and the brands you care about. Ultimately, we believe this will help make Skype a more engaging and useful place to have your conversations each and every day," explains Skype in a blog post announcing the feature.
Sounds like a brand marketer wrote this copy. My sense is most people don't view display ads as a way to engender "more engaging and useful" conversations.
For some, this form of advertising gets a little "creepy," because Skype will use "…non-personally identifiable demographic information (e.g. location, gender and age)" of the callers to target the ads. The goal is to make the ads more relevant to the callers. Users can opt out of that approach if they like and Skype will only use location to target the ads. Skype is looking at information about you and then targeting ads to you.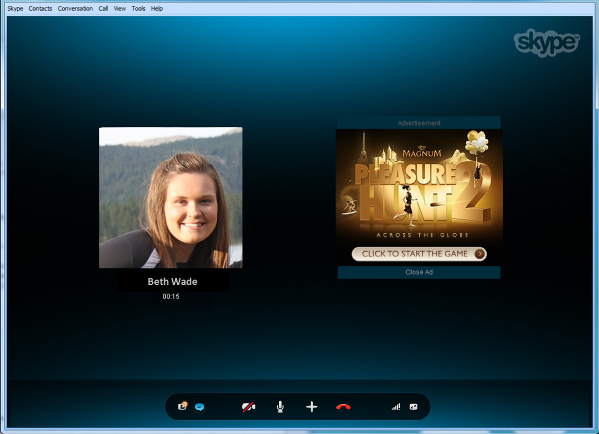 Maybe that's a good thing, that is if you're ok with the ads in the first place, but is it approaching a line that shouldn't be crossed? That is, does the next iteration of this ad targeting serve ads based on the actual conversation that is taking place? You and a friend are having a conversation about what you want to do that evening and all of the sudden an ad pops up for the local movie theater. Think of where this could head.
It is really a sign of the times I guess. Contextual ads are already everywhere on the web. Google, Facebook, and many others serve you display ads based on your search habits, location, and/or interests. It looks like that approach may be coming soon to your phone calls, proving that free VoIP does indeed have a cost.