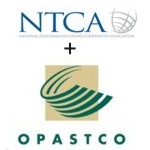 What has been in the works for a couple of years is now official, with the announcement that NTCA and OPASTCO have united to form one single organization to be named NTCA – The Rural Broadband Association.  The two rural telecom focused associations formally voted for the "unification" at their respective annual meetings, which were co-located this week in Orlando under the moniker the Rural Telecom Industry Meeting and Expo. Both organizations prefer the term unification over merger.
The formal vote count for NTCA was 169 voting delegates for the unification, with 10 against. OPASTCO voting delegates voted 133 for, with 10 against. The move has been widely anticipated, although the process to accomplish it was long and arduous. The unification involved changing several long standing association by-laws,  including now giving non-cooperative telco members full voting rights in the new association.
By combining forces, NTCA and OPASTCO members hope to grow their influence in Washington and look for better business opportunities for their now single membership. It follows a course the respective association leaderships have been preaching to their rural telecom carrier members – look for partnerships and more ways to work together to achieve a common goal and grow scale in the rapidly evolving broadband landscape. "This joining of two well-known entities increases the policy strength for the rural telecommunications industry and expands the business opportunities for growth and development for rural telecom companies," says a statement in the press release announcing the unification.
FCC Commissioner Robert McDowell signaled his approval of the move.  "It is encouraging to see the rural telecom industry unify their organizations and policy initiatives," stated McDowell in the press release. "This enables the industry to lead with one voice and focus their efforts.  I look forward to working with the new organization."
Shirley Bloomfield, CEO of the past and new NTCA tells me in an emailed statement, "I am so very proud of our industry for being visionary about their future and realizing that our voice in Washington DC – as well as potential business opportunities – will be strengthened by this unification." The unification becomes official on March 1.