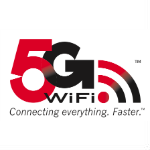 Introducing the latest broadband wireless marketing buzz word, 5G Wi-Fi, courtesy of Broadcom. Broadcom hopes to leverage the familiarity of the term "G," as it relates to broadband wireless, and attach 5G Wi-Fi to the newest WiFi standard, IEEE 802.11ac. Broadcom joins the small, but growing 802.11ac ecosystem, whose members are introducing bleeding/leading edge products based on the new Wi-Fi standard
Broadcom will launch what they bill as the first gigabit-speed 802.11ac chips at the 2012 Consumer Electronics Show (CES) in Las Vegas. They have launched a new marketing campaign for this so called 5th generation of Wi-Fi, including a new 5G Wi-Fi website and blog.
The campaign kicks off with Broadcom unveiling the first family of 802.11ac chips, which will significantly extend the range and throughput of Wi-Fi networks and devices, and enable consumers to watch HD-quality video from a growing range of wireless and mobile devices. The increased speed will also enable consumers to load Web content on a mobile device faster, synch large video or music files quickly while at the same time extending battery life, according to Broadcom.
The new IEEE 802.11ac chips are said to be three times faster and as much as six times more power efficient than equivalent current 802.11n broadband wireless chips. The increase speed enables consumers to download and upload content that much more quickly, which results in the device switching to low power mode that much sooner.
The 802.11ac Rush is On
Consumption of digital video is growing rapidly. Cisco, in its 2011 Visual Networking Index Forecast, expects it to account for some 90% of global Internet consumer traffic in 2015.
"Wi-Fi-enabled devices will grow from less than 1 billion units in 2010 to more than 3 billion in 2015," Gartner director of wireless research Mark Hung commented. "Given the current constraints of legacy 802.11 standards and the increased speed, capacity, coverage and battery life that 802.11ac offers, this next generation of Wi-Fi is poised for rapid growth across all product segments. 802.11ac will be one of the most influential mobile and wireless technologies in the years to come."
That's leading 802.11ac chip developers to put product development efforts on the fast track. Quantenna released its 802.11ac Gigabit-Wireless Solution for Retail Wi-Fi Routers in November, while Redpine released ultra low power 802.11ac technology for Smartphone Application Processors in mid-December.
Broadcom's providing samples of its 5G WiFi chips to its "early access" partners, including Comcast, Lenovo, Motorola, NETGEAR and others. It's also launched an 802.11ac, 5G WiFi website.
Backwards compatible with all previous wireless IEEE 802.11x standards, all Broadcom's 5G WiFi solutions support the following features:
80 MHz channel bandwidth that is 2 times wider than current 802.11n solutions
256-QAM, a higher modulation scheme that increases data transfer efficiency
Transmit and receive beamforming
Low Density Parity Check (LDPC) Codes
Space-Time Block Codes (STBC)