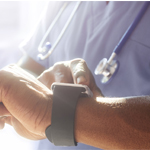 Nearly a quarter (22%) of physicians have used telehealth to see patients, and a new telehealth forecast suggests that 61% of doctors will use it by 2022.  Physicians are looking at telehealth to improve patient access to care, improve patient outcomes and attract and retain patients, according to new research from telehealth platform provider American Well.
This shift in expectations for telehealth, coupled with a more promising reimbursement landscape and health systems' vision to expand telehealth use, is expected to drive growth, according to American Well.
In a survey of 800 physicians, American Well discovered:
Physician adoption of telehealth has increased significantly and is up 340 percent from 2015 when only 5 percent of physicians reported having ever used telehealth.
More physicians are willing to try telehealth. A total of 69 percent of physicians said they would be willing to use telehealth, up 12 percentage points, from 57 percent in 2015. Interestingly, newer physicians (aged 25-34) were somewhat less willing to use telehealth compared to other young physicians (aged 35-44), possibly because these physicians are still learning their craft and thus are less confident about new technology.
Specialists want to use telehealth, especially those who are burnt out. Specialists most willing to practice via telehealth are also among the most burnt out. The top specialties willing to practice via telehealth include: Urology, Emergency Medicine, Infectious Disease, Psychiatry, Pediatrics, Oncology and Neurology.
"Physicians are adopting telehealth much faster than they adopted EHRs at a similar stage of market development," said Dr. Sylvia Romm, vice president of clinical transformation at American Well, in a prepared statement. "Physicians' increased willingness to see patients over video, in addition to the increasing physician shortage, high burnout rates and a more favorable reimbursement landscape, signals a boom in virtual visits over the next several years. It's exciting to be a part of such a significant movement."