The percentage of broadband households that had a remote healthcare visit increased from 15% in 2019 to 41% last year, according to a telehealth adoption report from Parks Associates.
The firm also found that 29% of respondents are very likely to add at least one health related product during the next year. About half of parents of children under 18 years of age have "high intent" to add a connected medical product. That group is followed by current telehealth service users at a bit over 40%. About 25% of all U.S. broadband households are likely to do so.
"The COVID-19 pandemic caused a massive increase in telehealth and health tech adoption among both consumers and care professionals," Parks Associates' Senior Analyst Kristen Hanich said in a press release about the telehealth adoption report. "2020 forced both groups to rely on virtual care, and with our data showing high levels of satisfaction among users, many consumers will be reluctant to revert back to in-person services and lose the convenience of virtual visits."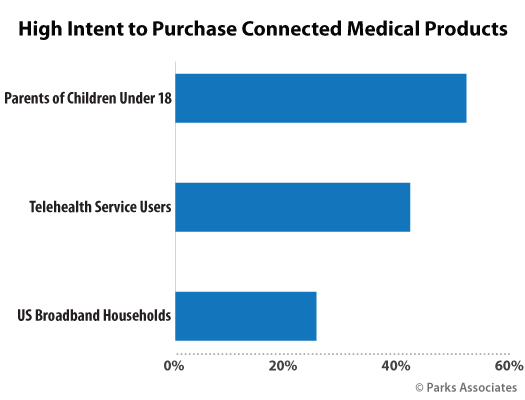 Experts expect demand to continue to be strong compared to 2019. The research shows that widespread adoption of virtual care has increased demand for ways to integrate connected devices with physician workflows in an effort to analyze data and leverage results. This is creating a challenge for developers of connected devices and services. End-to-end systems are necessary to take advantage of increasing connectivity speed, cloud and edge computing and machine learning, the press release about the Parks telehealth adoption report noted.
Telehealth has prospered during the COVID-19 pandemic. Last month, HIMSS Market and Spectrum Enterprise released research saying that 65% of healthcare organizations consider themselves very successful in meeting patient demand through telehealth and that almost 94% plan to continue investing in these platforms and services.
The government last year supported telehealth with a $200 million program that wrapped up in July. There is also an additional $250 million in the new COVID relief legislation that recently became law.