If action is needed to remediate alleged dangers posed by old lead-encased copper telecom cabling, the cost could be in the range of $60 billion, according to an estimate from New Street Research.
This, in turn, could impact the government's plan to invest $42.5 billion through the BEAD program to make high-speed broadband available nationwide, the researchers said.
In a heavily researched article published on Sunday, the Wall Street Journal alleged that telecom cabling installed decades ago can degrade over time, releasing potentially dangerous levels of lead into the water, soil or air. Lead-encased cabling was used until the 1950s or mid-1960s.
"If I were a governor, I'm not sure how I would feel about giving a company several million dollars, knowing that they haven't told me yet whether or not they're poisoning some of my citizens," said New Street Research Policy Advisor Blair Levin, on a livestream with reporters and investors today.
"Governors may use the BEAD process to at least get information," Levin said.
He expects to see governors saying, "I want a report on my desk in 60 days before we do anything else about what is the extent of the problem in our state."
We may see states requiring providers winning BEAD funding to remove lead-encased cabling nearby, Levin said.
Importantly, the New Street Research analysis assumes that a determination is made that a remediation is required, and that determination has not yet been made.
Telecom Lead Remediation Cost Estimate
New Street Research based its $60B lead remediation cost estimate based on the following assumptions:
Even where fiber has been installed, copper is often left in place
There are ~44M U.S. housing units that may have lead exposure (based on number of units built before 1960 minus those targeted for BEAD or where copper has been removed)
Of the ~44M housing units, ~19.3M have fiber underlying part of the connection and a remediation cost of about $500/unit for a total estimated remediation cost of $10B
About ~24.4M of the ~44M housing units do not have any fiber underlying the connection and are not targeted in provider fiber deployment plans or BEAD plans. The remediation cost for those units is estimated at $2,000/unit for a total estimated remediation cost of $49B

Who Pays?
According to the researchers, AT&T has the biggest potential remediation problem, with costs estimated at over $34.4B, followed by Lumen and Verizon, both of which are estimated to face potential remediation costs of over $8B.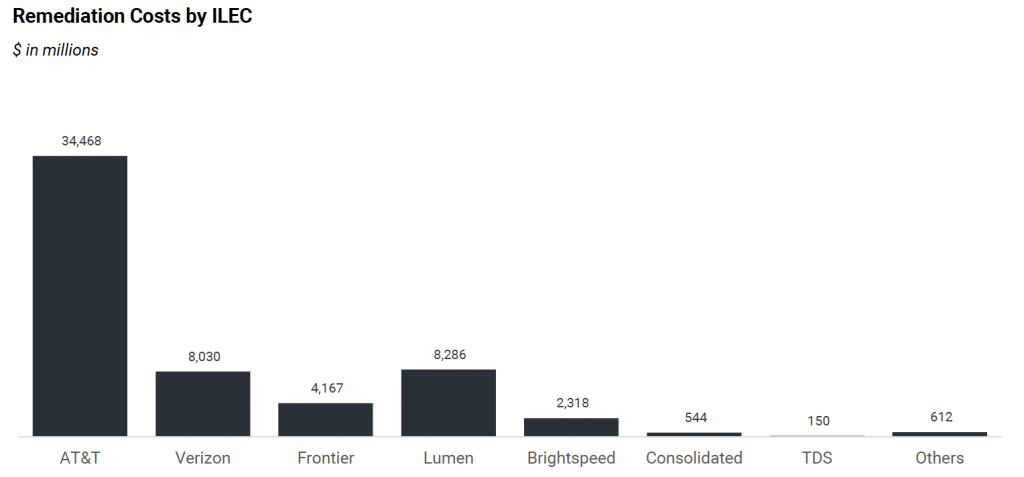 The companies that would be most negatively impacted, however, are Consolidated, Lumen and Frontier, the researchers said. All those companies would see unacceptable leverage levels that would likely cause them to cut back on fiber deployment plans, which in turn, would cause remediation costs to go up, said Jonathan Chaplin, New Street Research lead analyst, on today's livestream. This, in turn, would make those companies less likely to participate in the BEAD program, because they would not have as much money available for matching funds.
In addition, he said, this would "push back the remediation process for a very long time."
The upshot, according to Chaplin, is that "It's pretty likely that a significant portion [of any remediation costs deemed necessary] will be passed on to ratepayers or taxpayers."
The researchers cautioned that their findings are preliminary and they encouraged those in the telecom industry to provide additional information to help in fine tuning their estimates.
AT&T has created a special section on its website about legacy lead-clad cables. In it the company states that it takes the health, safety and well-being of its communities and the matters raised by the Wall Street Journal seriously. The company added, though, that scientific literature and studies give no reason to believe these cables pose a public health issue.
"Any new scientific data needs to be studied further before arriving at conclusions," AT&T said.
A spokesperson for USTelecom provided the following statement in response to Telecompetitor's request for comment about the New Street Research estimate released today:
"The telecom industry has a long tradition of closely following science and evidence as it relates to public health, environmental protection, and worker safety issues," the statement said. "And safe work practices within the industry have proven effective in reducing potential lead exposures to workers.
"Many considerations go into determining whether legacy lead-sheathed telecom cables should be removed or should be left in place, including those regarding the safety of workers who must handle the cables, potential impacts on the environment, the age and composition of the cables, their geographic location, and customer needs as well as the needs of the business and infrastructure demands. The U.S. telecommunications industry stands ready to engage constructively on this issue."
Updated with statement from USTelecom