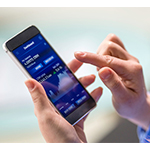 Self-service channels are rapidly becoming the first choice for many telecom customers when they experience technical difficulties, according to new telecom customer care research from J.D. Power. Digital self-service tools are of growing importance, the research highlights.
The J.D. Power 2020 U.S. Telecom In-Home Service Technician Study finds that overall satisfaction is significantly higher among service customers who use provider websites, mobile apps and social media channels to troubleshoot a problem before scheduling a technician visit than among those who use the phone to call in a problem.
The study further found that more than two-thirds (69%) of telecom customers attempt to resolve their own technical issues before resorting to scheduling a visit with an in-home service technician. Yet those who attempt but fail to resolve their issues before having a technician visit are significantly less satisfied than those who simply scheduled a technician visit without first trying to troubleshoot.
Telecom Customer Care Research
Digital self-service tools drive higher satisfaction, according to the report. While the phone is still the most commonly used channel for customers in need of technical help, it offers the least satisfying customer experience. Overall satisfaction with phone in solving issues is 852, compared with provider website (unassisted) at 862; provider website (online chat) at 864; mobile app at 879; and social media at 881.
Three-quarters of customers use the phone to seek help, but that percentage fell from 81% in 2018 and 79% in 2019. By contrast, the current percentages of customers turning to their provider's website (33%), mobile app (14%) and social media (10%) have trended upwards over the same period.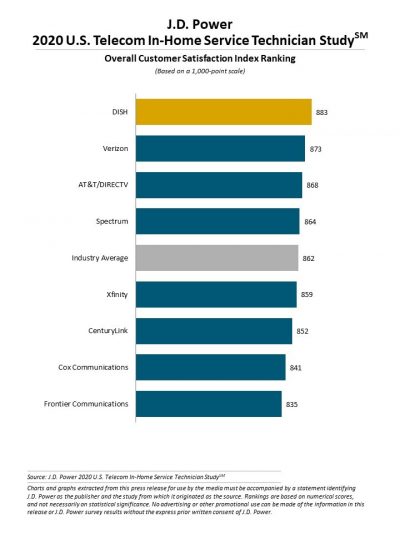 "As consumers continue to grow more adept at working with technology, there is a built-in expectation—particularly among younger people—that many tech issues can be fixed easily with a visit to a website or even a tweet to a social media account," said Ian Greenblatt, managing director at J.D. Power, in a prepared statement about the telecom customer care research. "We often say satisfaction is profitable. Providers that understand this and give customers easy access to the tools they need to troubleshoot common issues enjoy higher customer satisfaction, and—importantly—are spending less on customer service phone calls that begin at upwards of $7 to $12 per call."