States must act – and act promptly—to determine how they will address an impending shortfall in funding for rural broadband and telecom services, according to a new report issued today by telecom advisory firm Balhoff & Williams, LLC.
"Our analysis suggests that service will falter in certain regions or significant incremental costs will have to be borne by customers, unless new sustainable and predictable support revenues are made available," the authors write in the report.
The problem, according to the authors, is that existing federal support mechanisms such as inter-carrier compensation and the traditional voice-focused Universal Service program are being phased out — and the replacement broadband-focused Connect America Fund program is underfunded. The authors argue that many rural areas will not receive support through the new programs – either because they do not qualify for funding or because carriers will reject funding at the levels and terms and conditions offered by the government. And with current programs being eliminated, the authors see a distinct possibility that carriers may no longer be able to afford to deliver telecom service in certain areas unless the states step in.
The 45-page report contains a wealth of data about the rural telecom industry and the impact of ongoing reforms to the Universal Service program and inter-carrier compensation system. Traditionally those systems have helped cover the cost of communications services in rural areas that are more costly to serve on a per-customer basis.
Some of the more interesting data points from the Balhoff and Williams analysis:
Funding allocated to help cover the cost of bringing broadband to price cap carrier territories in Phase 2 of the Connect America Fund program would cover only about one third of the costs of meeting broadband service requirements – even if carriers accept the entire funding offered to them. The authors believe some carriers will reject funding and are skeptical about whether other carriers will step in to assume that responsibility.
Sixteen states have eliminated carrier of last resort obligations that require incumbent local telcos to offer phone service to all locations in their territory.
Wireless is not an appropriate substitute for landline broadband because of usage caps. The authors calculate that the monthly mobile broadband cost for the median rural broadband user would be $120 to $165 and for the average user would be $300 to $400 based on AT&T and Verizon rates.
Rate of return carrier revenue losses have been climbing because of reductions in inter-carrier compensation and other factors, according to data from the National Exchange Carrier Association. NECA estimates that rate of return carriers' annual revenue decline will reach $1 billion by 2020.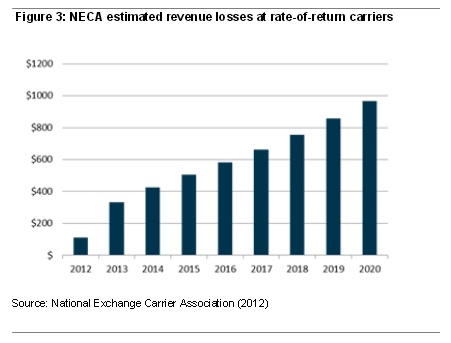 Revenue declines, combined with difficult-to-predict caps on today's voice-focused Universal Service program and uncertainty about the CAF program, have sharply decreased rate of return carrier investment. The Rural Utilities Service, a key lender, was able to place its full loan portfolio every year Balhoff and Williams have been able to track until 2012, when borrowers drew down only 11.6% of the $690 million that was available.
AT&T has said that there is no business case for deploying broadband to 25% of its local service territory.
Just over half (26) states have state Universal Service programs. In addition, Vermont is considering such a program. Balhoff and Williams suggest that more states may need to adopt such programs in order to ensure that residents continue to receive communications services.