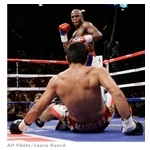 Maybe executives from AT&T and Verizon got inspired by Floyd Mayweather's boxing win this weekend, because they both came out swinging at their cable competitors this morning. Both telcos launched campaigns that aim to exploit cable's perceived weaknesses – wireless and price.
AT&T's 'text bundle' adds a wireless plan with unlimited texting to home phone and DSL service. The bundle, which AT&T claims "cable doesn't offer" starts at $99/month. Available wireless plans include AT&T Nation 450 or an AT&T FamilyTalk plan. The bundle appears to be exclusive to the old Bell South territory for now. AT&T is applying the value approach to wireless with this bundle, hoping to entice value conscious customers to stay with or migrate to AT&T for "all of their communications needs."
Verizon's also offering a couple value plays. They launched two promotions today featuring both FiOS and DSL broadband platforms. For FiOS, they are offering a $150 Visa card, free installation and a two year price guarantee. Like AT&T, they too cite cable in the promotion saying "there's no reason to settle for clunker cable service." Kind of a clever way to try to leverage the notoriety surrounding the recent 'cash for clunkers' program.
In a second Verizon campaign, DSL broadband, DirecTV, and home phone service is being offered for $75/month for the first three months. Depending on which DSL tier customers select, the bundle price rises to $100/month or $110/month. The campaign is obviously focused on value so I'm not sure why Verizon uses language like "consumers who have been waiting to disconnect their cable connections or enter the world of broadband are going to like what Verizon is offering…" Not sure I'm buying that angle – consumers who are focused on broadband aren't leaving cable for 3 Mbps or 7.1 Mbps DSL. If they leave for this promotion, it's too save money.
Cable's taking some heat these days for rising costs. I'm not sure these are knock out blows from their telco competitors, but they are trying to hit them where it hurts. How will cable respond?