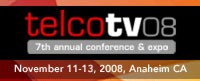 The TelcoTV Conference kicked off this morning with keynote addresses from both AT&T and Verizon. Dan York, Executive Vice President of Content for AT&T and John Harrobin, Senior Vice President for Marketing and Digital Media for Verizon both offered glimpses into their respective company's three screen entertainment strategy. A recurring theme throughout both presentations was that telcos are reinventing the television experience, and doing so more effectively than their cable competitors. "Telcos are at the center of reinventing TV," said Harrobin. "Telcos are best positioned to mine content assets and maximize value," through the integration of mobile, broadband and TV, and are executing that vision better than cable, said Harrobin.
"We're redefining ourselves as a communications and entertainment company," said York. "But entertainment is more than just video," he said. York painted a picture where entertainment involves integrating all services and platforms with an entertainment portfolio. "Putting entertainment in the bundle is not enough," said York. "This goes beyond putting three services on one bill." The emphasis of telcos beating cable at their own game couldn't have been louder. I counted five instances of "more than cable" references in York's 30 minute speech alone. Harrobin alluded to the "death of linear television" and suggested that telcos are better positioned to leverage the future of television which will be more focused on VOD and web integrated video experiences. "The magic happens when we connect the three platforms of mobile, broadband and TV," he said.
Despite the bravado and hype of York and Harrobin's comments, there is an argument to be made for their hypothesis. TelcoTV operators are being more innovative with video and are executing a better three screen strategy than their cable and DBS competitors. But realistically, what choice do they have? They have to be more innovative and offer a more compelling mix of features to compete with well entrenched cable and DBS competitors. The same could be said for cable's assault on telco's core service – voice. Cable is offering more innovative voice offerings than their entrenched telco competitors. It's a factor of the marketplace. Competition is always a catalyst for innovation.