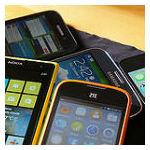 Ninety-one percent of U.S. teens venture online via mobile devices at least occasionally, according to the latest research from the Pew Research Center'sInternet, Science and Tech unit. Nearly all African-American teens reported doing so, "significantly more than white or Hispanic teens," Pew's Amanda Lenhart writes.
In producing its "Teens, Social Media & Technology Overview 2015" Pew found that 90 percent of white and 91 percent of Hispanic teens go online while on the move.
In general, teens ages 13-17 go online frequently and mobile device connectivity is a big facilitator. Ninety-two percent of those surveyed said they're using the Internet "almost constantly," while 56 percent said they go online several times a day. Twelve percent said they connect once a day.
Only 6 percent reported going online once a week. Two percent said they do so less often.
"Much of this frenzy of access is facilitated by mobile phones — particularly smartphones. Nearly three-quarters (73 percent) of teens have a smartphone while just 12 percent of teens 13 to 17 say they have no cell phone of any type," Lenhart highlights.
Teen Smartphone Usage
Ninety-one percent of teens said they use mobile phones to connect to the Internet at least occasionally, while 94 percent of those go online daily or more frequently. That compares to 68 percent who said they don't use mobile devices to go online.
Breaking out the data along ethnic lines, 34 percent of African-American teens said they go online "almost constantly." Corresponding figures for Hispanic teens were 32 percent and 19 percent for white teens. More white teens reportedly go online several times a day, which "was the most commonly expressed frequency of Internet access across all groups."
Teens from "well-to-do families" go online more frequently than those from "the least wealthy households," Pew found: 93 percent of teens in households with annual income over $30,000 go online daily as compared to 86 percent from households where annual income is less than $30,000.
Just over three-quarters (76 percent) of teens said they use social media sites. Older teens (81 percent) use them more frequently than do teens 13-14 (68 percent).
Nearly 9 in 10 (89 percent) of teens said they used at least one of seven specified social media sites – Facebook, Twitter, Instagram, Snapchat, Tumblr, Google+ and Vine. Seventy-one percent said they use two or more.
Among the 18 percent of teens reportedly using only one social media site, 66 percent said they use Facebook, 13 percent Google+ and 13 percent Instagram. Just 3 percent said they use Snapchat, while 2 percent said they use a site other than those listed. Less than 2 percent said they use either Twitter, Vine or Tumblr as their sole social media platform.
Texting, pin and discussion boards
Zooming in on texting, Pew reports that 91 percent of teen cell phone owners text either directly via their mobile phones or via an app or website.
One-third now use text messaging apps such as Kik or WhatsApp. Hispanic (46 percent) and African-American teens (47 percent) are more likely than their white counterparts (24 percent) to use apps for text messaging.
Nearly four in ten (39 percent) of teens in households with annual income under $50,000 use text apps as compared to 31 percent of those from wealthier families, according to Pew.
Analyzing the survey results along gender lines, 37 percent of girls who own cell phones use text messaging apps as compared to 29 percent of boys with cell phones. On average, teens ages 13-17 send or receive 30 texts a day. Girls tend to exchange texts more frequently than boys, sending or receiving an average 40 texts per day. That rises to 50 for girls ages 15 to 17.
Pew also found that 22 percent of teens use online "pinboards," such as Pinterest or Polyvore. Girls, older teens in particular, are big users as compared to boys: 33 percent to 11 percent, respectively.
In addition, 17 percent of teens said they read or comment on discussion boards such as Reddit or Digg. Differences were small across gender, age or any other demographic.
Video games and video calls
Playing video games is popular among teens: 72 percent – 84 percent of boys and 59 percent of girls – said they play video games online or via their mobile phones.
Eighty-three percent of African-American teens said they go online to play video games as compared to 71 percent of white and 69 percent of Hispanic teens. There weren't any significant differences when it came to family income or education.
Nearly half (47 percent) of teens reported using video calling/chat services such as Skype, Oovoo, Facetime or Omegle, according to Pew. At 54 percent, video calls were reportedly most used by girls. That compares with 44 percent for all other teens. Fifty-three percent of Hispanic teens reported using video chat and calling as compared to 43 percent of white teens.
Image courtesy of flickr user Jon Fingas.