U.S. teenagers (ages 13-18) spend an average of nine hours every day consuming entertainment media, while tweens (ages 8-12) consume entertainment media an average of six hours, according to a research report from Common Sense Media released November 3rd. These figures don't include the amount of time members of the two age groups spend using media for school or homework.
The study is the first of its kind to measure the proportion of digital screen time devoted to passive consumption, interactive content, communication or creation, Common Sense Media highlights in a press release. Carried out by GfK and entitled, ¨Common Sense Census: Media Use by Tweens and Teens,¨ the study was based on a nationally representative sample of 2,658 Americans ages 8-18 conducted February-March 2015.
No surprise, newer forms of digital entertainment media, such as online videos, mobile gaming and social media have become quite popular among U.S. teens and tweens, Common Sense Media reported.
That said, the traditional entertainment media staples of watching TV and listening to music are the most popular forms of entertainment media among young Americans. These are being consumed in new ways, however. Mobile devices, for instance, account for 41 percent of tweens' and 46 percent of teens' total ¨screen time,¨ according to study results.
Teen Media Use
Though U.S. teens and tweens spend much of their time using digital media, their usage varies across several attributes, including race, class and gender. The research results reveal ¨a digital equality gap," for example.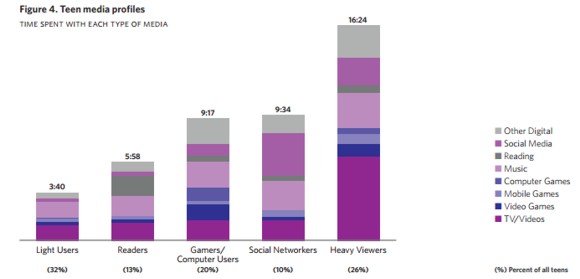 Kids living in low-income households are far less likely to have access to computers, tablets or smartphones. Those that do are more likely to spend more time using these devices than their counterparts in more affluent families, Common Sense Media notes.
Large differences also exist between young U.S. males and females. Teenage males spend an average 56 minutes per day playing video games as compared to 7 minutes among teenage females. On the other hand, teenage females spend an average 40 minutes more each day than their male counterparts on social media, 1 hr. 32 minutes as compared to 52 minutes.
"Our world is changing and kids are spending a lot of time with media – and they are doing it in a variety of ways and on many platforms," James P. Steyer, Common Sense Media founder and CEO, was quoted as saying.
"The census really sheds light on how different media use is for different kids – from boys to girls, low income to more affluent, and kids from all ethnic backgrounds.
¨There are a lot of ways media use can be educational and beneficial for our kids, from learning apps and web sites to creating content. The media use census provides parents, educators and the media industry with an excellent overview of what kids are doing today and how we can make the most of the media and technology in their lives."