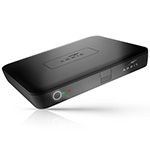 TDS Telecom has selected an Android TV set-top platform from ARRIS to support its TDS TV+ cloud TV platform. TDS TV+ is slated to launch later this year, starting with the company's central Oregon cable operations.
The platform offers more than 260 linear channels — 100 of which are in HD – of on-demand content, pay-per-view and mobile viewing through TDS TV Everywhere. TDS reported over 54K video customers with its telco operations, and roughly 100K with it's cable operations, as of the end of 1Q19.
"We turned to ARRIS because we needed a more efficient platform for IP video delivery that combined both managed and un-managed video delivery options," Ken Paker, TDS's Senior Vice President for Information and Network Technologies and CTO, said in a press release. "The new platform enables TDS to customize the user experience for different customer segments."
TDS will use ARRIS's Wi-Fi 5-enabled  VIP6102W UHD IP set-top box (STB). It provides what TDS says is seamless integration between the set-top device, Cloud TV back-office, TiVo user interface, third-party applications such as Netflix and voice-enabled remote control. ARRIS Professional Services will provide a customized user experience, integration into the TDS system and a remote-control firmware upgrade application.
Management will be provided by the vendor's cloud-based ECO Service Management. The STB is Android-certified and can be configured with the RDK 3.0 and ARRIS KreaTV software, which provides additional user interface options, ARRIS outlined in the press release.
The announcement builds on a move made a year ago in which TDS adopted TiVo as its next-generation platform. The move covered both existing and new video subscribers on the service provider's cable and IPTV operations nationwide. The advanced features being managed and controlled by ARRIS, such as search and recommendation platform, voice control, OTT and linear programming integration, VOD and cloud DVR, are on the TiVo platform.
TDS broadened its video reach in March by extending its all-digital TV service to business customers in communities in which the provider offers residential services. TDS TV for Business can help simplify billing, technical support and any account changes for businesses that already have phone and internet services, the company said.