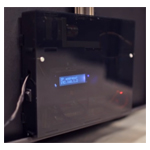 OneNeck's new vertically sweeping roaming robotic-sensor, designed to move up and down a closed server cabinet has been awarded a U.S. patent, the TDS data center subsidiary announced. During each vertical sweep, the OneNeck data center sensor assembly records the heat and humidity then generates a color-coded heat map. Data centers include hundreds of such cabinets. Detecting hot spots is critical to keeping the data centers operational.
The patent limits other providers from making and/or using similar server cabinet sensor assemblies.
"We can leverage this sensor to test the climate within client's cabinets and then use the information to better protect their mission critical servers and IT-equipment. The robotic sensor is innovative, non-intrusive and extremely effective," said Hank Koch, SVP of Mission Critical Facilities at OneNeck, in a prepared statement.
OneNeck Data Center Sensor
The sensor attaches to the inside of the cabinet door — without any modification or drilling. The unit operates outside of the cabinet, with a motor and belt-driven rail assembly unit that slowly raises the sensor until it reaches the top of the cabinet, and then lowers it back to the base, generating a heat map.
"The heat-map reveals any and all hot spots," said Koch in a prepared statement. "Equipped with this information, our facilities technicians can quickly make the necessary adjustments to improve overall air flow. Bottom-line, this monitoring device can aid our clients in managing their internal rack, cable placement and airflows, thus preventing overheating, early burn-out or, even worse, downtime."
OneNeck operates data centers in Arizona, Colorado, Iowa, Minnesota, New Jersey, Oregon and Wisconsin that protect client's IT assets from natural disasters. Each data center includes infrastructure redundancy, customizable security measures, biometrics, multi-factor authentication and 24/7 video surveillance. The heat maps help ensure the data centers avoid overheating and related problems that could take them offline.