TDS reported its 2Q20 results last week and its investments in fiber and IPTV appear to be paying off. Unlike its larger telco brethren, TDS is growing its video and broadband base, and ARPU is inching up as well.
In its non-cable markets, TDS is adding video subscribers, a trend that is tough to achieve for telco video providers these days. The company reported its video subscriber base increased by 9% in 2Q20, a feat it attributes to its new IPTV service, TDS TV+. That new video product takes a more app based streaming approach to video and uses TiVo middleware.
TDS video is a profitable service, the company maintains. Forty percent of subscribers who have access to TDS TV+ subscribe to a double play of video and broadband. TDS TV+ is available in about 1/3 of TDS markets today.
"Approximately 40% of our broadband customers in our IPTV markets take video, which for us is a profitable product," said Vicki Villacrez, CFO of TDS Telecom, on the company's 2Q20 earnings conference call (via Seeking Alpha transcript). "Our strategy is to increase this metric as we expand into new markets that value these services and through the launch of our new TDS TV+ product."
TDS video isn't the only growth area for the company. TDS is making progress in broadband as well. The company's strategy includes upgrading its network to fiber and making opportunistic expansion moves. The company now has fiber available to 265K locations, or about 1/3 of its footprint.
All fiber locations offer gig service. The company plans to continue adding fiber, although it did caution that it is experiencing construction delays thanks to slowing permitting processes and slowing right-of-way preparations for aerial construction.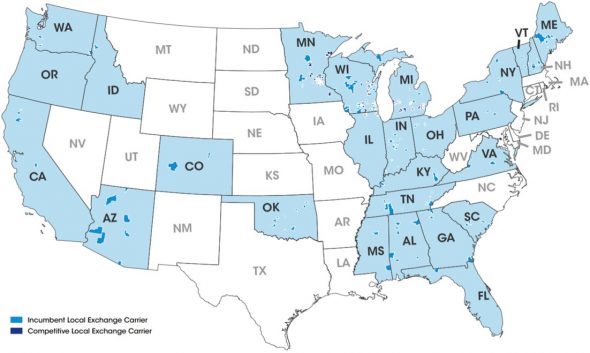 "Our current fiber plans include roughly 320,000 service addresses that will be built over a multiyear period," said Villacrez. "Year-to-date, we have completed construction of 25,000 fiber addresses."
The company did not reveal its fiber penetration, but approximately 1/3 of all broadband customers now subscribe to 100 Mbps broadband or faster, up from 26% a year ago. This is helping drive overall ARPU growth, which is up 4% to $49.73. Broadband connections grew by 6% in 2Q20