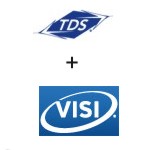 Merger and acquisition activity continues in the tier 2/3 sector with TDS' announcement of its acquisition of VISI Inc. VISI, based in the Twin Cities, is Minnesota's largest locally-owned data center and managed hosting provider. Their product portfolio includes managed hosting, co-location and cloud-computing services to businesses of all sizes, from technology start-ups to large enterprises.  TDS is a Madison, Wis. based ILEC with a footprint across 30 states.
The move illustrates a trend of telecom service providers to diversify beyond their core telephony services into SMB, Enterprise, and cloud computing services. "VISI brings a successful and talented team with a proven track record for providing high quality data center and managed hosting services.  VISI's broad capabilities and extensive service set, combined with its valuable facilities, including an expanding SAS 70 Type II certified data center in St. Paul and a state-of-the-art data center under construction in Eden Prairie, Minn., position us well for growth in a dynamic marketplace," says Dave Wittwer, president and CEO for TDS Telecommunications Corp.
Windstream has also been quite active in this regard, having both acquired these types of assets, as well as grow them internally. Merger and acquisition activity among tier 2/3 telecom carriers is heating up, as these traditional local phone companies look to both grow scale and diversify to better compete in the changing marketplace.