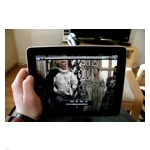 Cable and TV broadcasters have invested lots of time, money and other resources to develop "TV Everywhere" platforms and their own alternatives to over-the-top (OTT) video services such as Netflix and YouTube. Despite this, new research from The Diffusion Group (TDG) reveals that tablet owners are much more likely to use OTT service apps rather than those offered by TV networks and operators.
Nearly half (48 percent) of adult tablet owners in the U.S. said they run OTT video apps on occasion as compared to 37 percent who said they use broadcast network apps and 31 percent who said they use cable network apps along with 31 percent who reported using apps from TV operators.
Use of TV Network and Cable TV Apps
According to TDG's "Benchmarking the Connected Consumer" report the use of OTT video apps is not only more widespread than that of their broadcast TV counterparts, they are used more often. Forty-one percent of tablet users said they run OTT service apps at least once a month as compared to 26 percent who use video apps from the "Big Four" broadcasters, 21 percent who use cable channel apps and 16 percent who use video apps from TV operators.
Commenting on TDG's research results, President and Director of Research Michael Greeson stated, "Some 60% of adult broadband users now own a tablet such as an iPad or Kindle Fire. These portable platforms are rapidly becoming second televisions in the home, where three-fourths of tablet video viewing takes place. This is consistent with predictions TDG offered the very week the iPad was first introduced."
To date, use of broadcast, cable and TV operator online video apps has been disappointing despite "TV Everywhere" investments and substantial additions to the amount of content incumbents have put online, TDG notes. "The recent expansion of network and operator 'TV Everywhere' apps should help broaden their use, but uptake has to date been disappointing, especially those provided by TV operators like Time Warner Cable and DISH," the market research company states in a press release.
Just 23 percent of U.S. tablet owners made use of TV providers' online video apps during the past 12 months, TDG found. That rises to 37 and 31 percent, respectively, for broadcast and cable network apps.
Added Greeson, "TV operators thus have their work cut out for them if they expect to keep tablet video viewers within their branded content corral."
Image courtesy of flickr user bendodson.