The confluence of smartphone penetration and social media is fueling Social-Mobile video (SoMo) consumption, a new market segment that market researcher firm The Diffusion Group (TDG) expects will grow rapidly in coming years.
Consumers now spend an average of more than 50 hours per week viewing content on screens – TV, PC, tablet or mobile phone, according to TDG. Smartphone video viewing continues to expand its share, reaching 8.6 hours per week per person.
That's more than the average time spent watching broadband video (8.2 hours per week per person), according to TDG.
Social networking's share of weekly screen time is growing at the same time. Consumers now spend an average four hours per week of weekly screen time engaged in social networking, according to TDG. Sixty-three percent (2.5 hours per week) of that is spent using social media platforms such as Instagram.
The Rise of Social-Mobile Video Networks
Given the rising trends in and the overlap between mobile video viewing and social networking service providers are testing new SoMo video networks. Consumers spend an average of just 0.13 hours per week using SoMo networks at present – 10% of smartphone use and 14 percent of total smartphone video viewing time, TDG highlights in its 'The Future of Smartphone Video: 2016-2025′ report.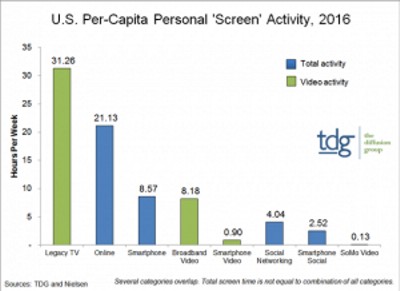 TDG expects that to grow rapidly over the course of this and the coming decade. According to TDG senior analyst and report author Joel Espelien: "Screen time is shifting towards mobile.
¨Mobile usage is shifting towards social networking apps. And social networking apps are shifting towards video. All the trends are lining up in favor of massive growth in SoMo Video over the next decade."
TDG forecasts daily SoMo video viewing will increase from 684 million minutes this year to 7.4 billion by 2025. Its share of total smartphone video viewing will expand from 17 percent to 43 percent over the forecast period.
Image courtesy of flickr user Kirill Kniazev.