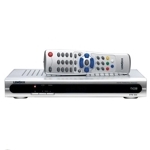 Twenty-eight percent of adult broadband users recently surveyed by TDG (The Diffusion Group) regarding their usage of and preferences for new digital video services and applications said they're likely to purchase an Internet Set-top Box (iSTB) in the next six months.
More than half of those (56%) said the desire to replace their traditional pay-TV services with streaming video services to some degree factored into their intention, according to TDG's "Video Behavior in the Age of Quantum Media."
Over 38% of those who said they intend to purchase an iSTB said they "slightly agree" that "a key rationale" underlying their intention is to replace traditional pay-TV service. Just over 17% said they "completely agree" with this statement.
"Internet set-top boxes are built specifically to bring a variety of video services and other applications to your TV set," commented TDG co-founder Michael Greeson. "It should be of no surprise to see such correlations. It is, however, surprising to see the extent to which it holds."
By way of comparison, 32% of those who said they were likely to purchase a game console in the next months said "the replacement factor" factored into their intentions. Twenty-three percent said they "slightly agree" with that statement; 9% said they "completely agree."
"Given the breadth of content and applications, not to mention the extremely low prices, these devices offer an attractive OTT platform for those inclined to cancel their pay-TV service," Greeson added.