New research from TDG highlights the relationship between broadband growth and pay-TV decline. Just over 1 in 5 broadband households (22%) have no legacy pay-TV subscription, representing roughly 22 million homes, according to TDG.
TDG points to this pay-TV decline in the context of broadband household growth. According to their numbers, in 2011, there were 85 million broadband homes in the U.S. and 9% of them did not subscribe to pay-TV.
Fast forward to 2016 where broadband homes grew to 100 million, with 22% choosing no pay-TV. That's roughly 140% growth in pay-TV cord cutting as broadband's penetration rose. TDG refers to these households as 'cord nils,' or households with 'zero' use of TV services from cable, DBS or telcos.
This brings the ongoing effectiveness of the double play bundle of broadband and TV into question. TV providers are forced to offer 'skinnier' packages with declining ARPU as a result, creating somewhat of a vicious cycle, TDG notes.
"Wall Street and the media are myopically focused on the quarterly drip of Legacy Pay-TV subscribers, which unfortunately overlooks a larger and more dangerous trend," notes Michael Greeson, TDG Co-Founder and Director of Research in a press release. "As TDG noted long ago, where broadband (and broadband video) goes, Legacy Pay-TV subscriptions will increasingly decline."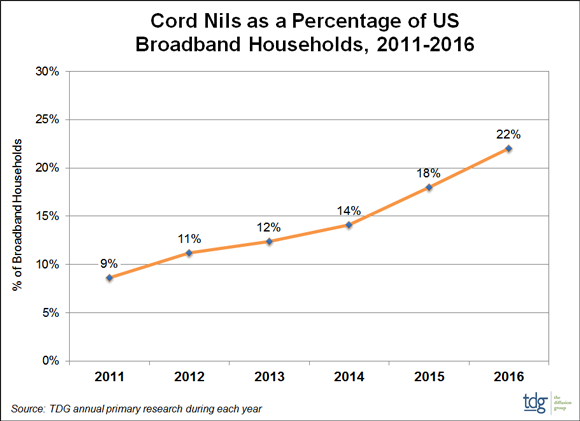 TDG seems to think Comcast may be an exception, thanks in part to their aggressive push of X1, their new IP-based user interface (UI).
This trend is happening just as virtual pay-TV operators gain their footing in the marketplace. Sling TV, DIRECTV NOW, and a growing number of others are actively courting these broadband-only households. But they are also enticing broadband/pay-TV households to cut the cord and join them.
"Unfortunately for other U.S. MVPDs, the stickiness of the Internet/TV bundle appears to be in decline, even before Broadband Pay-TV services gain serious footing," notes TDG.
Image courtesy of flickr user Alyssa & Colin.