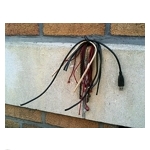 Households with Internet-connected TVs are more than twice as likely to downgrade or "cut the cord" and cancel their pay TV subscriptions, confirming one of the cable and pay TV industry's worst fears, according to new research from TDG, The Diffusion Group.
Though the vast majority of adult broadband users in the U.S. still have little or no interest in canceling their pay-TV subscriptions, a significant 8.8% of Net-connected TV users are highly inclined to cancel their subscriptions in the next six months, TDG's analysts write in the market research firm's, "Net-Connected TV User Dimensions," report.
"The data does demonstrate a notable correlation between the two phenomena, one we expect to grow more strongly in the next few years," TDG co-founder and president Michael Greeson was quoted in a press release.
"For years, the casual relationship between the two behaviors has been questioned, and rightly so. Yet TDG has argued for several years that this relationship would develop over time and hit an important landmark moment of sorts in 2013.
"That is indeed what has transpired, and now the pay-TV industry and prominent analysts are coming to terms with the fact those with access to online video sources on their TV are more likely than their counterparts to be reconsidering the value proposition of incumbent pay-TV services."
In comparison,  just 3.5% of non-connected pay-TV users said they were highly inclined to cancel their subscriptions, according to TDG.
Net-connected TV penetration among US broadband households is around 60% at present, meaning that some 54 million broadband households now own at least one Net-connected TV, TDG notes. Additionally, TDG predicts "… that within the next 5-10 years, all televisions in broadband households will be connected to the Internet."
"As this plays out, more consumers will be exposed to the benefits of a net-connected TV and, as established in the course of this report, with this exposure comes greater likelihood to downgrade or even cancel one's traditional pay-TV services like cable and satellite," TDG asserts.