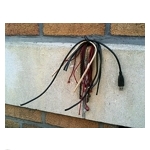 The percentage of adult broadband users ¨moderately¨ or ¨highly likely¨ to ¨cut the cord¨ on pay-TV services dropped nearly 20 percent between early 2014 and 2015, The Diffiusion Group (TDG) highlights in its latest market research report.
The rising trend in ¨cord cutting¨ has been a source of concern among cable, telco and satellite pay-TV service providers while the percentage of adult broadband users considered ¨moderately¨ or ¨highly likely¨ to cancel their pay-TV service subscriptions in the six months following TDG's surveys has held steady at around 7 percent in recent years, the market research provider noted.
That percentage declined for the first time in five years, to 5.7 percent, in early 2015, according to TDG. Furthermore, the percentage of adult broadband users who reported they ¨definitely would cancel¨ their pay-TV subscriptions in the ensuing six months declined by half – from 2.9 percent in early 2014 to 1.4 percent early this year.
Does Interest in Video Cord Cutting = Action?
Just 7 percent of pay-TV and OTT content subscribers in the U.S. have actually ¨cut the cord¨ on their traditional pay-TV services, according to market research results from Rovi Corp released in mid-September.
As TDG's survey was conducted in this year's first half, the documented drop in the percentage of those who said they would definitely cancel their traditional pay-TV service subscriptions is a sign that the decline may have continued into 3Q. Recent 3Q reports from pay-TV service providers indicates that is indeed the case, TDG pointed out — although some other industry observers have a bit different take on 3Q results.