The march towards using the Internet and IP-based networking platforms to host and distribute all types of media, including TV programming, continues amidst the growing wave of mobile video viewing and IoT tech. Case in point: connected TV penetration in broadband households has grown nearly 50 percent since 2013, rising from 50-74 percent as of year-end 2016, TDG (The Diffusion Group) highlights. Connected TV penetration now stands at 74% in U.S. broadband households.
Percentage growth is harder to come by the larger a reference base grows, and that's the case when it comes to connected TV penetration in U.S. broadband households. According to TDG, connected TV penetration grew 22 percent from 2013-2014 and another 15 percent from 2014-2015. A marked slowdown occurred from 2015-2016, with connected TV penetration among U.S. broadband households increasing just 4 percent.
Connected TV Penetration
The slowdown wasn't wholly unexpected, TDG president and research director Michael Greeson pointed out in a press release. Connected TV penetration generally tracks household broadband penetration, so as the latter slows, so does the former. "At 74% penetration, connected TV use is squarely in the Late Mainstream phase of its trajectory," Greeson elaborated in a press release. "Barring any major disruption in TV technology or market conditions, growth will slow each year as the solution reaches saturation."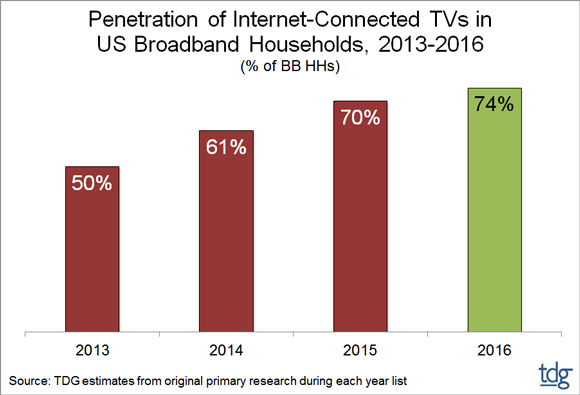 That doesn't mean there aren't plenty of new business development opportunities, however. Rather, commercial focus will shift from TV sets and OEMs towards video services, content producers and distribution.
"Broadband pay-TV services are particularly well positioned to leverage this utility, which permits scale at much lower costs," Greeson noted.
In recent, related market research, NPD Group predicted that 80 percent of smart, i.e. Internet-enabled, TV sets and streaming media players would actually be connected to the Internet by year-end 2019. Seventy percent were in 2015.