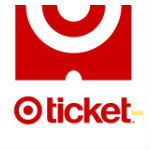 Like Walmart, Target has historically been one of the largest retailers of DVDs. Like Walmart, Target realized a while ago that the evolution to digital delivery of video via the Internet will negatively impact the revenue of physical disc sales. Walmart purchased Vudu a few years back as a result. Target now has their answer with Target Ticket.
Target Ticket has been under beta development for some time, but TechCrunch reports it will soon launch to consumers. The VOD service will initially offer 15,000 titles, including both movies and TV shows. The service will reportedly allow consumers to purchase or rent titles and view them across a range of devices including TVs, smartphones, tablets, and game consoles. Both Apple's iOS and Google's Andoid platforms are supported. Target Ticket is also part of the UltraViolet ecosystem.
Target Ticket is obviously an answer to Walmart's Vudu and Best Buy's digital distribution platform, CinemaNow. But it will also position itself as an alternative to Apple's iTunes and Amazon's Instant Video, both of which are significant competitors in the digital distribution of video.
Target Ticket now joins a host of VOD providers beyond the aforementioned competitors, including Netflix and Redbox/Verizon, not to mention TV service provider VOD options. Is there room for yet another?